Joining the Beyhive
Saturday night, I had the pleasure of experiencing Queen B's Formation World tour in the Superdome. I arrived an hour before the performance, and was promptly informed that there was a delay of another hour.
I waited for DJ Khaled for almost an hour, and when he finally showed up, I had a clothing malfunction. I was in the restroom and my romper wouldn't zip up all the way, and I missed nearly all of the DJ's work. I even enlisted my good friend Clay Hanna's help, but to no avail.
For the part that I watched, DJ Khaled's performance was less than noteworthy. The opening act lasted for a slight thirty minutes; however, he managed to fill the time and keep the crowd's energy up for Beyoncé, who was able to hit a home run with her performance.
Despite the DJ, the crowd was ready and energetic for Beyoncé. One person in a gold jumpsuit and heels got wheeled off in a stretcher before the performance even started. Some others trickled around the stadium as well. they just got a little too excited, I guess.
Finally, the introduction of, "Formation" blared, and out walked Big Freedia followed by Beyoncé and dancers. The local bounce  artist added a special New Orleans vibe, that all attending appreciated.  She introduced the Queen with her words of wisdom, telling the audience that she "…came to slay…" and advised everyone else to do the same.
Needless to say, Beyoncé blew the beyhive away with her unmatched talent. Clay Hanna and I stood (and danced) in awe of her voice, as her singing live turned out to be exactly like the vocals on her albums. Clay and I both agreed that it was a refreshing change of tune compared to other live performances we've heard. Though she includes some added vocals already taped during her live show, she still sang for the majority of it when she wasn't aggressively dancing.
The concert was an incredibly impressive mixed media event, complete with videos from the Lemonade films, pyrotechnics, and strobe lights which all emphasized her powerful performance. Her flawless A Capella rendition of "Love on Top" gave me goosebumps as she soared through octaves and scales effortlessly.
She closed with a classic, "Halo" that everyone knew and sang along to. The phone flashlights and some real lighters were shining bright, and she nailed the vocals, as to be expected. It was an experience that I will remember for the rest of my life.
About the Contributor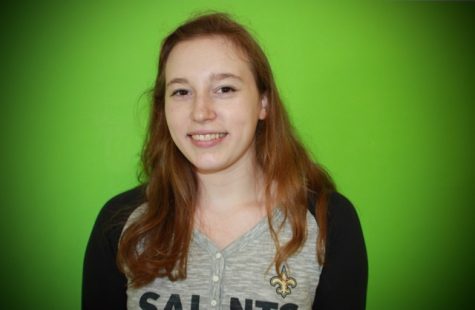 Rebecca French, Arts Editor
Rebecca is a senior and her favorite color is emerald green. She has only ever lived in New Orleans, aside from living temporarily in Bells, Tennessee...