Warriors, Monsters, and Agnes
Newman's Upper School fall play She Kills Monsters had a phenomenal run this weekend. The cast's hard preparation paid off as the play had the audience roaring with laughter and cheering throughout its run. The premise of the play centers around the principal character Agnes (E Freyou) who reconnects with late sister Tilly (Sara Ochoa) through the game of Dungeons and Dragons. 
Attending the show on Friday will be a highlight of my Newman experience as the humor of the show resonated with me deeply. But the play begins with a chilling moment, Tilly's death. Using the magic of motion pictures, the projection of the car was almost too real for me. After the somber moment, humor took the wheel and refused to let off the gas. 
The comedic timing of the cast was impeccable. Characters like Chuck (Frank Brickman), Orcus (Fionn O'Keeffe), and Steve (Sully Westerfield) stole the show. Chuck the freshman dungeon master served as a guide to Agnes's new world outside of Ohio. The wisecracking master provided much needed laughter. The funniest part was Chuck's conversation with Miles (Jay Bigelow) explaining Dungeons and Dragons roleplaying without the much needed context of "roleplaying". Along the journey, they meet the 90s TV obsessed under-worldly ruler Orcus. His outlandish obsession with Friends and aloofness to problems like losing already lost souls make him a begrudging ally who only wants to return home to watch Thursday night television cause "HAVE YOU SEEN QUANTUM LEAP?!" Serving as comedic relief was Steve. Poor Steve had to take the burden of being denied customer service at Gap, karate chopped by Farrah the Faerie (Rebecca Fuller), and consumed by a gelatinous cube. As the audience had hoped that Steve would survive to see the different "bosses", he succumbed every time. 
Aside from the humor and epic battle sequences, She Kills Monsters opens the floor for a much needed discussion about identity and support. With characters like Lilith (Evie Bigelow) and Kaliope (Sabie Debiase), She Kills Monsters shows how friendships and interests can carve out spaces for teenagers to feel safe and welcome. Instead of shying away from LGBTQ+ characters, the play embraces them and places them in center stage. 
She Kills Monsters was a phenomenal show! A massive thank you to the cast and crew of the show for sharing their incredible work with the Newman community. 
About the Contributor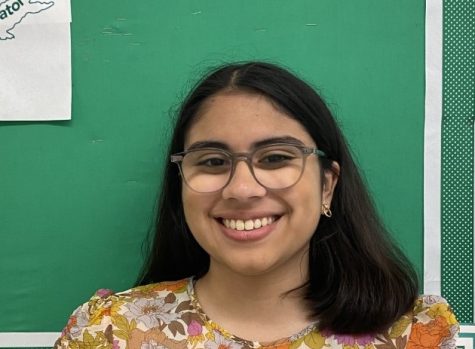 Colette Bu, Writer
Colette Bu is member of the Class of 2023 who has attended Newman since 7th grade. Some of her favorite subjects include History and English. Outside of...