Green Club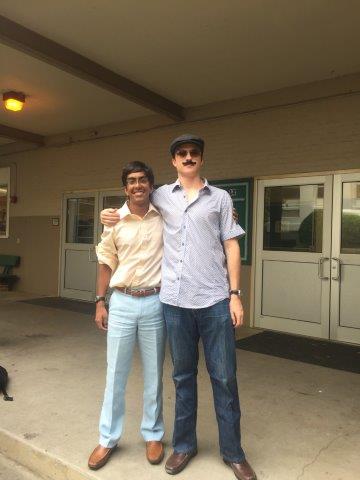 One of Newman's newest and most forward-thinking clubs, the Green Club, made their mark last year by raising enough money to bring refillable water bottle fountains to campus, and this year, the club has only set their sights on more ambitious goals.
Club heads Srijan Duggal and William Woolridge lead each Green Club meeting every other Tuesday during lunch, where members gather to discuss their plans to make Newman a more environmentally friendly institution. Last year, the club raised enough money through their aluminum bottle sale to purchase several refillable water bottle fountains, with locations in both the middle and upper school.
This year, Srijan and William have made it their mission to bring solar panels to the senior patio umbrellas, allowing students to charge their phones and laptops while still enjoying the sunshine. They plan on raising the funds for the project through another reusable water bottle sale this year, so stay tuned for an upcoming announcement regarding the specific dates of the sale.
Additionally, the club has begun to encourage all sports teams to use refillable water bottles on the field, as opposed to disposable plastic cups, in an effort to further reduce Newman's environmental footprint. Regarding the cafeteria, the Green Club intends to replace the Styrofoam to-go boxes with a biodegradable material, as these substances break down much more easily than plastic.
The club is always looking for new members, so if you're interested in becoming a part of the green movement at Newman, stop by on Tuesdays or email Srijan or William for more information.
While Newman's local recycling program may not initially seem relevant on a national level, recycled plastic and aluminum cans and cups can become anything from a synthetic winter jacket to an airplane wing. Additionally, 75% of all aluminum mined since 1888 is still being used in day-to-day life, so every effort to recycle makes a difference, and only yields positive benefits both locally and globally.[1]
So get involved and get excited because the Green Club is helping save the world.
[1] http://www.recycleeverywhere.ca/what-they-become/