I Love This City, but It Is Tearing Itself Apart
How violence and murder threatens New Orleans tourism and its beauty
Early Sunday morning, a 25 year old artist and former NOCCA student, Demontris Toliver, was murdered. He had returned home from Baton Rouge, where he worked as a tattoo artist, to be with his family for Thanksgiving, and to be in town for the annual Bayou Classic football game between Grambling and Southern. The game looked like it would be a classic. The two bitter rivals took each other on as they do every year, but this year both teams came in with undefeated records. Ultimately, Grambling came out on top. After the game, along with countless other fans, Demontris went to Bourbon Street to celebrate, and take in the sights of this beautiful city he once called home. In the early morning hours, an argument broke out, which quickly escalated into the eruption of gunshots. Demontris was hit in the crossfire, and died. What started as a celebration on Bourbon ended as an innocent man leaving in a body bag. 9 other victims were injured in the madness. Many of them remain hospitalized. This scene is all too familiar to us New Orleanians. Only 2 ½ years ago, we saw something eerily similar… an argument broke out on Bourbon, shots rang out, the crowd stampeded down the street, jumping over bar counters and hiding in alley ways. In both mass shootings the casualties were the same: 10 people shot, and one killed. This has to end.
All of this violence seriously threatens New Orleans' image, and by virtue of that tarnished image, it hurts our main economic driver: tourism. This city needs tourism to survive. Even when the oil industry is hurting, like it is now, and the rest of the state struggles, New Orleans always has tourism to keep it afloat. Nearly 10 million people visit New Orleans every year. Tourism pours $6.8 billion into the city's economy annually. Tourism has helped us weather economic recessions, hurricanes, and oil spills. We need it to survive, and, unfortunately, violent acts like those on Sunday night, especially violent acts in the most popular tourist areas of the city, seriously threaten the tourism industry. This concern has been voiced as high up as the halls of the State Capital. Lieutenant Governor Billy Nungesser (whose primary role is to encourage and coordinate tourism in the state) said about the recent shootings "Something has to change. We have to do something now before we let thugs kill tourism." While this language may be a bit harsh to some, the Lieutenant Governor brings up a great point. A small minority of people in this city have had a tremendous effect on the perception of New Orleans through acts of violence, especially through the shooting of Will Smith, and the two recent shootings on Bourbon Street, all three of which have made a significant amount of national news. As the city prepares to host record numbers of tourists for the tercentennial in 2018, it is becoming more and more apparent that something must be done to stop the violence that plagues this city, if not to ensure healthy tourism numbers for the future, to keep those tourists who visit NOLA everyday safe.
For his part, New Orleans Mayor Mitch Landrieu has made great strides in attempts to increase safety in the city. On the night of the shooting there were over 3 dozen on-duty police officers patrolling the French Quarter, with a majority of them dedicated to the area between the 100 and 500 blocks of Bourbon (where the shooting took place). Landrieu has instituted wide-ranging initiatives aimed at increasing both the quantity and the quality of police officers in the city. He has taken advice from police chiefs and mayors across the nation, and has made real progress in the way that the police department is run, and the role it plays in the community. Unfortunately it has not been nearly enough, and Mayor Landrieu knows it. After every shooting, or other tragic violent event, the frustration and sadness is clear in his eyes. He is doing everything he can, and it does not seem to be enough. On Sunday, Mayor Landrieu appeared with Police Chief Michael Harrison at the scene of the shooting. There, with clear disgust at what he was looking at, the Mayor told the press that the situation was "totally unacceptable. The violence continues to spin out of control with people brandishing weapons whenever they think they can. It's really unfortunate."
So what more can be done to stop these acts of violence? Locals have no shortage of ideas. These include closing off Bourbon Street and forcing all patrons to go through a security check point with metal detectors, further increasing the police presence in the neighborhood; the idea has even been floated to institute a curfew in the French Quarter, although that particular proposal has largely been laughed off. Whatever is done, it needs to aggressive and instituted quickly. The violence must stop, for the sake of the city and the millions that visit it each year.
I love this city with all of my heart. New Orleans is a unique mixture of Spanish, French, Caribbean, and Southern cultures. It is a cacophony of music, food, and just about everything else. New Orleans is loud and bright. It is slow and fast at the same time. None of it should work, but it does work, and it is beautiful. I have been lucky enough to have traveled to a few other "great" cities in my life, and I hope to go to many more, but nowhere will ever compare to here. Whether it is the joyous crowds calling for beads at Mardi Gras, or the colorful houses of the Marigny. Whether it is a beautiful fall drive down Saint Charles Avenue with the windows down, or a walk down Royal Street catching up with old friends from out of town.  Whether it is a brass band playing, or a bowl of gumbo. This city is beautiful. There is no doubt.  As Bob Dylan once said: "There are many places I like, but I like New Orleans better." But this city is also ugly. This city is harsh. This city is the place where tourists can be run-over and dragged underneath a car to a different neighborhood. This is the city where a Saint, in more senses of the word than just one, can be gunned down and killed. This is a city with one of the highest murder rates in the country, and even the world. This city is a beautiful enigma, and I just pray that we can find a way to save it from itself before it is too late.
About the Contributor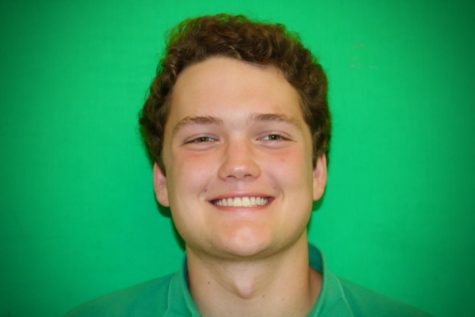 Wicker Perlis, Writer
Wicker Perlis is a 12th grader who writes articles for the sports section. His favorite color is green, he has a pet dog named Cody, he is an Aries, he's...