GPA v. IQ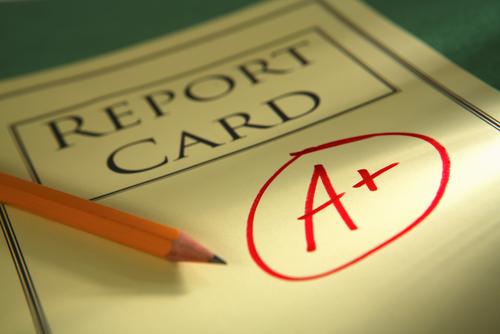 As grades come in, there is a topic now worth discussing: GPA v. IQ.
The topic of who the smartest kids are at school is a popular subject among students, and one of the most constant debates is who are the 'smart' kids and who are the kids who just work hard. At points, it can seem like an argument against kids who are not in honors classes getting honor roll, especially in Middle School, when the Advanced Math class does not get a grade bump. Kids in the Advanced class are annoyed when their peers seem to get the same grades as they do, even though the Advanced kids are doing more work. It seems like a valid argument – kids in the Advanced class do three years of math in two years, whereas non-Advanced kids only do two. But this argument neglects the fact that kids in Advanced math have shown they are capable of doing three years of math in only two, and so putting them in a regular class would be just as unfair as leaving out the grade bump, because kids who can get a B+ in Advanced math may be able to get A's in regular.
So, does the grade bump in High School correlate to the ability of kids in Honors and AP classes? Is the extra grade bump just a reward for being smart? It is not a reward for being smart. Brain power, in a good school like Newman, can only get you so far.
————————————————————————————————————————————————————————————————————————————–
For those of us who have gone through at least one year of high school, we all feel as though we have achieved the impossible – climbed Everest, swam the Amazon – and deserve our due praise. That praise comes to us at the end of the semester with the biannual honour roll assembly. With it, comes angry students, upset and worried over grades, proud parents, and the collective "of course X got honor roll…" and "wait, Z isn't on honor roll?" Some students begrudge missing honor roll by .01 and .02 points, some complain about non-honors students getting high awards, while others scoff at all-honors students, in jealousy and indignation.
That brings up the all-consuming question of who is 'smart,' which is unfair in my opinion. Wondering who is 'smart' is dismissing the single most important quality of any American – hard work. Smart people may not work the hardest, yet still are able to get honor roll due to their natural ability. They are like athletes who need little training to be a starter, or artists who can paint/draw/sing/play amazing things almost instantly.
If this seems unfair, but life is unfair. Harsh, I know, but we all have our stregnths and weaknesses. These abilities and inabilities are our lot in life. We have to live with them, but not stick with them. People who are not natural geniuses and are motivated to work extremely hard can do better than people with greater intelligence than them but are less motivated.
————————————————————————————————————————————————————————————————————————————–
It's crunch time. Grades are out. Billy pulls out his calculator to average his grades. He groans in frustration when he realizes he was just .02 off honor roll. But I tried so hard! he thinks. Jimmy, the smartest kid in school, got a perfect GPA. But I tried just as hard as him! Billy grumbles internally. However, Billy's IQ relative to Jimmy's just isn't that high. But both kids tried their hardest, yet it doesn't necessarily seem that way to Billy.
Here is, the largest problem with American schools. Students with high IQ's can do as well as students with lower IQ's, not even trying, yet there is not necessarily a way to show that. As we all know, GPA is a combination of your own natural talent and hard work. But this may not be the best system. We need GPA to be a reflection of potential, not talent.