The Road to Sulphur: Swimming State Preview
On Tuesday, the Newman swim team will travel to Sulphur for the state championship swim meet. This past week has been extremely draining for the team due to taper practices; these practices are especially hard because they are mid-distance sprint sets on incredibly fast intervals. Although they are painful, taper practices really do improve performance at state. The end of a season also means that these are the seniors' final days on the team. The seniors are leaders who have fostered tight bonds across grade levels, and losing them will be particularly difficult.
Unlike the past two years, having both the boys and girls teams win the state championship title will be very difficult. The girls' team is much smaller this year than in the past, which is a disadvantage in a sport that is scored by individual points that add up to a team total. The girls are going to have to fight for every point, but there is no doubt that they will do very well despite the tough competition. On the other hand, the boys' team has a substantial advantage according to the predicted results, and they are the projected winners of their meet.
No matter the final results, the swim team has had an incredibly successful season with many personal bests, and they are looking forward to many more successful seasons to come. Be sure to show your support to our Newman Greenies as they depart for the state championship meet!
About the Contributor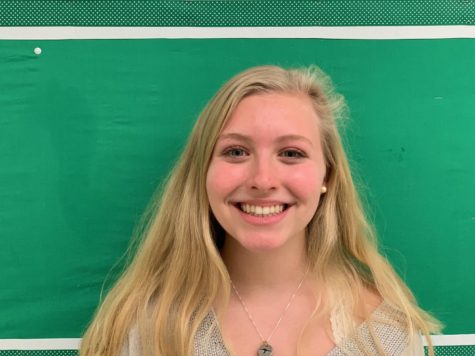 Serena Klebba, Editor-in-Chief
Serena is a senior who has written for the Navigator all four years of high school. Some of her favorite memories from her time working with the paper...