Introduction to The Puzzle Club
If anyone has walked past Lemle 136 since the start of the school year, chances are they've observed something in addition to students learning Latin. This year, senior Garrett McNamara has founded a new club at Newman School. The Puzzle Club began when Ms. Gray began bringing puzzles for her and Mr. Satriano's advisory. Other individuals of the upper school, including Mr. Satriano's current and former students, began to work on these puzzles during lunch and their free time. While the club began with a mere 36-piece puzzle depicting a group of polar bears sitting on an iceberg, the ambitions of the club are skyrocketing. Moving onto more difficult puzzles ranging from 100 pieces to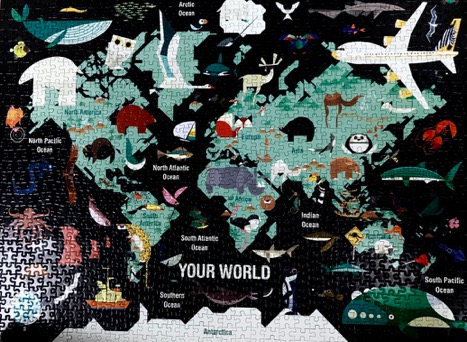 a number of 1000 piece puzzles.
However, The Puzzle Club will definitely not be stopped by a lack of ambition. The most recently completed puzzle (pictured above) was tough. The amount of pitch black pieces which comprise the ocean were nothing short of frustrating to put together. Nevertheless, The Puzzle Club continued seeking challenges after completing this world map puzzle. The current puzzle is a depiction of Vincent van Gogh's Café Terrace at Night. This puzzle presents unique challenges because many of the colors blend together rather than the clean lines of contemporary puzzles. Additionally, the sidewalk outside the café which comprises the highest single percentage of any pattern in the puzzle is mostly continuous with few distinct features.
Moving forward, The Puzzle Club is already looking towards the future. The next puzzle will be another world map with a much more traditional look than the one completed previously. As for the long-term goals of the club, there is a current capital campaign with the goal in which the club is attempting to raise $400. This money would be used to purchase the cleverly named "Educa 42000 Around the World Puzzle." What the name doesn't tell you is that this puzzle happens to be the largest commercially available jigsaw puzzle on Amazon.com. At only $399.99 it is a relative bargain with each piece costing less than $0.01. While measuring in at only a fraction of the world's largest jigsaw which contains a total of 551,232 pieces. Merely acquiring such a puzzle would be an accomplishment, but ultimately the goal would be to construct this puzzle on Newman's campus. The only question: Where? The Around the World Puzzle measures 21x5ft. As Puzzle Club founder told their faculty sponsor, Mr. Satriano, "Step one: acquire the nearly 50lbs. puzzle, step two: find a place to build this gargantuan puzzle, step three: build the puzzle."
The Puzzle Club is always happy to see new faces in Lemle 136, so feel free to stop by and check on the progress of the capital campaign or connect a few pieces. No experience required.