The Teal Pumpkin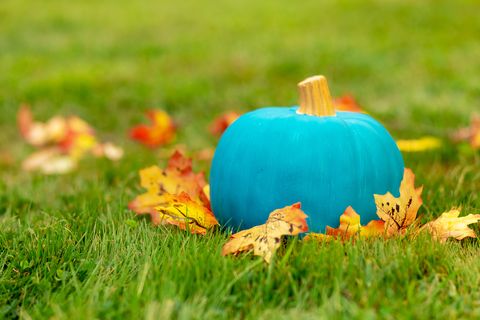 In the fall of 2012, Becky Basalone, a Tennessee mother-of-two, began a project that would soon spread across the country and beyond. With two sons possessing food allergies, one with life-threatening reactions to common ingredients in candy, Halloween was disappointing at best and dangerous at worst. Most candy had to be rejected, and none of it could even be touched as it dropped into his bag.
"I've heard children with food allergies say Halloween is their least favorite holiday. They hate it," said Lois Witkop of Food Allergy Research and Education (FARE). According to statistics from FARE, "compared to children who do not have a medical condition, children with food allergy are twice as likely to be bullied," and about one in three children report being bullied as a result of their extreme food allergies. Many of those kids are regularly forced to sit apart from others at lunch and to decline party invitations for their own safety. "We hear far too many stories of kids with food allergies being excluded, facing bullying," Witkop said.
In response to the lack of inclusion her kids and many others face, Becky Basalone created the Teal Pumpkin Project, which aims to raise food allergy awareness and to create safe, identifiable places for the 5.6 million children who live with food allergies. According to The Centers for Disease Control & Prevention, food allergy prevalence in children has "increased by 50% between 1997 and 2011," and particularly dangerous allergies such as peanut or tree nut allergies have "more than tripled in U.S children" between 1997 and 2008. The Teal Pumpkin Project's goal is to make sure that there is more to Halloween than just candy, so everyone can take part in and truly enjoy the holiday.
To participate, you need not give up offering regular candy. Simply have, in a separate bowl, some non-food treats. These can include items such as Halloween themed stickers, fake tattoos, coloring books, or crayons. Non-food options have become increasingly popular since retailers have noticed the economic impact of the twenty five billion dollar annual cost of caring for children with food allergies. Options can be found at places like Etsy, Target, Walmart, CVS, Michael's, and can be ordered on Amazon. Putting a teal pumpkin on your doorstep signals to people that you have allergen-free options, and it will fit right in with your other Halloween decorations. Make sure to add your house to the online Teal Pumpkin Project Map so that families will know they can trick-or-treat at your place, and share the Teal Pumpkin Project with your friends and family!
When my family took part in the Teal Pumpkin last year, we received happy responses from not only allergenic kids, but from all of the trick-or-treaters! The kids were thrilled to have fun toys to choose from instead of regular candy, even though we offered candy too. Make sure to set out a teal pumpkin and, in a separate bowl, have some non-food options for all the kids, and keep your eye out for kids with allergies so they can have a happy Halloween too.
To put your house on the Teal Pumpkin Project Map, go to: https://www.foodallergy.org/education-awareness/teal-pumpkin-project