The Skeleton House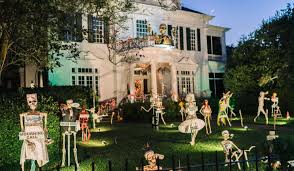 The Skeleton House on St. Charles Avenue is a New Orleans tradition that attracts both locals and tourists every year during the Halloween season. The front lawn of the Uptown home transforms into a skeletal wonderland and consists of puns and other jokes about national celebrities, local news, pop culture, etc. Each skeleton has its own clever and creative name. Louellen Berger, the owner of the home, says the ideas come from her grandchildren, trick or treaters, and letters that she receives in the mail. Some of the skeletons are classics that return each year, and others are new that originate from trending topics. 
This year, some of the skeletons that come from recent headlines include references to the college admissions scandal, the Morning Call and Cafe du Monde beignet battle, and Drew Brees' thumb injury. 
The display can be seen at the mansion on St. Charles Avenue and State Street from the first week of October through Halloween. The property is comical, family-friendly, and a unique spin on Halloween celebrations. Check it out before October ends!