The Importance of Outdoor "Adventures"
What is the one activity college orientation programs, Michel Scott's Scranton branch of Dunder Mifflin, and Newman middle schoolers  and seniors have in common? Meetings, yes, but more importantly, outdoor adventures.
As I set off for another round of college visits, my younger sister was coming back from a week in the woods on her own "adventure" at Kanuga. Hearing her stories of fallen tarps, floods, and medical evacuations prompted me to remember my time at Kanuga three years ago.
Looking back, my memories of the experience are overwhelmingly positive. Everything from my conquering a fear of heights on the high ropes course to our group's engraved walking stick and watching Shrek on the bus made me immediately check my calendar when Mr. Carey offered juniors a chance to go back as chaperones.
Although in the end I was not able to go, it got me thinking: why is it that "adventures" such as this are so popular today, and quite frankly, why did I have so much fun?
The answers to these two questions are undeniably linked, they are indeed popular because they are fun, but their value lies in that sometimes they are not fun. Don't get me wrong, there are fun moments: whether it be Bo's story of him falling fully clothed into a frigid creek (which in retrospect was probably decidedly un-fun to him in the moment), the late night bus conversations, and the sheer exhilaration of seeing the summit of John Rock.
Despite the fun, the real personal growth comes from the experiences that are much less fun.
That week in Hendersonville I got frostbite, tasted some of the grossest food in my life, and learned the results of the 2016 election.
Nothing could have prepared me for those election results. The second I heard that Trump had won my whole world stopped. But only for a second. The world couldn't stop. We had one meal left for the group and had to be off the mountain that afternoon. So, shell-shocked, I kept going.
A year later, stunned at the loss of someone who had been an integral part of my Kanuga experience, I found myself using the skills I'd learned on the mountains.
In life, just like on trail, you can't stop. That day may have been one of the worst of my life, but I kept going.
Yes, that week I learned how to look for bear tracks and pitch a tent, but I also learned how to keep going. Shared experiences, and the resulting shared moments of perseverance are the real reasons colleges send their incoming freshman on "adventures." Not only do they strengthen the individual, they make the group stronger as a whole. Although it may not have been the most fool-proof way to find a manager for a paper company, busing a group into the woods does have an incredible amount of inherent value.
In a society where we've become increasingly disconnected from nature and each other, these "adventures" will only become more important. Not only do they help us reconnect with the world around us, they also help us reconnect with the people around us.
Oh and by the way, they're really fun.
About the Contributor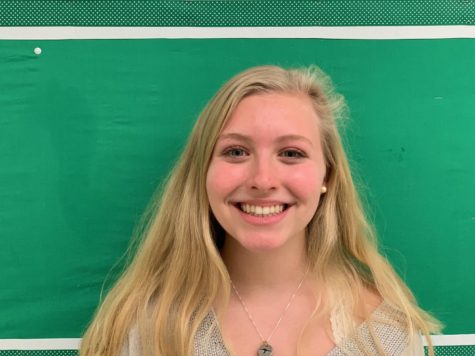 Serena Klebba, Editor-in-Chief
Serena is a senior who has written for the Navigator all four years of high school. Some of her favorite memories from her time working with the paper...