2020 XC State Meet and the Legacy of Coach Zell Continued
On Monday, November 16th the girls and boys competed in the 2020 State meet for XC at Natchitoches, Louisiana. The runners worked very hard this entire season for this final meet. This year lots of aspects of the meet changed because of the safety precautions in place for Covid-19. Only the girls and boys racing (7 each) and the alternate for each team was able to go to the meet. Usually, the whole xc team goes to the meet.
Both the girls and boys traveled up on Sunday before the meet. Different than previous years, every runner had to travel up and stay with their parents due to Covid-19. Usually, the team rides up together and stays in the same hotel. Luckly, the team still had the chance to visit the famous Christmas lights in the main town of Natchitoches.
On the day of the race, the runners woke up ready for success. The weather was sunny and the temperature was in the low 70s, perfect. The boys raced at 1:45pm and the girls raced at 3:15pm. The course of the race was 3.1 miles instead of the usual 3 miles the teams race over the season. The boys placed 6th and the girls pushed through and placed as State-Runner Up (2nd) for the second year in a row! Ava Hartman (9th grade) placed 3rd overall in the girls race!
Lots of tears of joy were shed at the hearing of the results. This previous summer, the XC team lost their beloved Coach Zell. This loss affected all the runners and they dedicated this season to the honor and memory of Zell. Runners ran their meet keeping in mind the memory of Coach Zell and imaging running with him. These happy results of the meet meant the world to the team because they knew Zell would be very proud of them and that their hard work paid off in this final meet.
All of the runners did very well in the meet and should all be very proud of themselves. Lanie Talbot (Senior) even ran a PR (personal record) at this final meet which very few people do. Thank you Coach Fal, Daniels, and especially Zell for this great season and meet results!
About the Contributor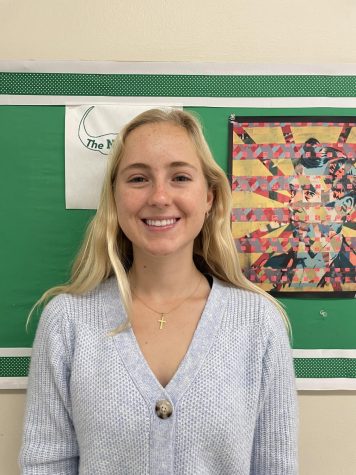 Maggie Smith, Editor-In-Chief
Maggie Smith is a senior and has been on the Navigator since her sophmore year! Maggie loves to run, watch movies, and study history :)