Marvel Studio's WandaVision: A New Era of Television
Marvel Studio's first ever television show began streaming on Disney+ this past Friday and released the first two episodes of WandaVision. The show centers around Marvel's "unusual couple" made up of Wanda Maximoff (played by Elizabeth Olsen) and Vision (played by Paul Bettany). Wanda Maximoff is the superheroine some might recognize by the name of Scarlet Witch. She obtains her powers from exposure from the Mind Stone (the yellow one) during experiments. Her husband (who technically is a machine) also gets his power from the Mind Stone. This television show is what one might consider "meta." There are several explanations for this assumption, but first, a brief review of the first two episodes.
Each episode has a different decade's aesthetic built into it. The first mirrors the aesthetic of a 50s sitcom with its canned laughter and black and white film. On the other hand, the second episode has the aesthetic of a 60s sitcom show. One could easily mistake it for "I Love Lucy" instead of a Marvel superhero show. The couple resides in Westview—a quaint suburban neighborhood with noisy neighbors and 9 to 5 jobs. In the first episode, Vision invites his boss from the computation office for work. While having dinner, there's a peculiar moment where the boss chokes on his own food. The happiness of the sitcom soon disappears and adopts a more sinister tone. Vision ends up saving the poor man, but it leaves the audience wondering if there is more to this superficial sitcom town than what meets the eye. The second episode is about a talent show where Wanda and Vision perform magic tricks at the town's talent show "for the children". WandaVision hints that there is more than meets the eye than the characters' comically suburban life, which creates a very meta layered reality show that might be difficult for some non-die hard Marvel fans to follow.
The first clue to this layered reality is the ending of each episode. At the end, it is revealed that an unknown S.W.O.R.D. (Sentient Weapon Observation and Response Department) agent is watching the couple. Additionally, Vision dies in Avengers: Infinity War; this is a possible clue that this suburban reality is built by Wanda in an attempt to cope with her grief. This fake reality gives off a lot of "Truman Show" vibes, but we will have to wait until next Friday to get some more answers.
About the Contributor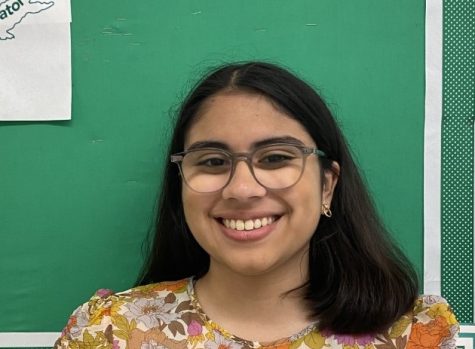 Colette Bu, Writer
Colette Bu is member of the Class of 2023 who has attended Newman since 7th grade. Some of her favorite subjects include History and English. Outside of...