Lights, Cameras….ACTIONS Committee's Film and Discussion Series
Want to watch movies while still being a productive member of society?
The ACTIONS committee hosted a film and discussion series in honor of Black History Month.
Each Friday, students and faculty gathered afterschool in the Henson to watch a film, chosen by Mr. Henderson. These movies would fuel discussions and debriefs in the art gallery, while attendees enjoyed food from local, black-owned restaurants. Captivated, many people sometimes stayed later than 6:30 to continue their discussion.
The movies attendees watched in the Month of February were All In- The Fight for Democracy, Marshawn Lynch- A History, Do The Right Thing, Time, and Lover's Rock.
Wenbo Jiao, a senior who helps organize and attends these events, comments on the progress of the events so far: "Over the last 7 weeks, we have had great student and faculty turnout, and because of that, amazing conversations. I think students find these discussions a safe space to share their ideas and converse with students from different backgrounds and grade levels. It has been an amazing few weeks of community and fellowship, and I hope more students who normally don't talk about the topics we discuss will attend in the following weeks!"
The ACTIONS Committee plans to continue this system to honor Woman's History Month; each Friday will feature a movie that reflects topics due for a discussion. Likewise, food will be served from locally, women-owned restaurants. The month of March kicked off with the movie Miss Juneteenth. Next up (Friday 12th) will feature RBG.
Events such as these are comfortable, manageable, and perfect opportunities to engage. It's also very easy to access: you are only one sign up link and one hallway away from attending the next discussion. The ACTIONS Committee encourages you to take part in this amazing event!
About the Writer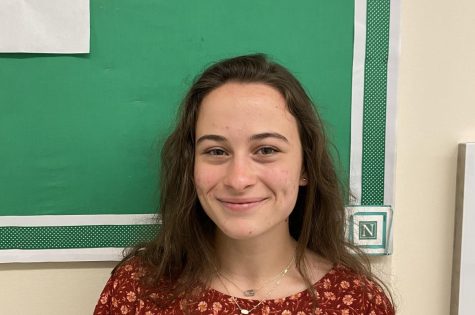 Isabelle Plaisance, Editor-in-Chief
Isabelle (Class of 2023) is a four-year veteran of the Navigator crew. She loves to write opinion pieces unprompted and also commonly sponsors the Varsity...