Avatar in 3D
For a special time only, the original Avatar is being shown in 3D in movie theaters. Because the premiere of Avatar 2 is December 16th, the producers and Disney decided to show the original to build hype for the new one. The first Avatar was released in 2009, making it 11 years between the first and the second. 
I found myself at the theaters for Avatar because my dad convinced me to go with him. I had seen Avatar before and thought it was pretty good, but I wasn't a huge fan. To be honest, I didn't even know that the second Avatar was being released soon. As well, I couldn't remember the last time I had seen a movie in 3D, something I thought was the coolest thing ever as a child. 
Let me just say this, 3D makes Avatar so so much better. Avatar is a pretty action-packed movie, and so the 3D makes all the effects appear cooler. Additionally, the big scream and the 3D made watching the movie to be more of an experience. In modern times, people don't attend theaters like they used to because streaming services allow people to watch shows from the comfort of their homes. I'm glad to see the creative ways companies are trying to attract people back to the movies. To me, going to the movies is more special and memorable than watching a movie at my house. 
Another cool thing to highlight is that there was an extra scene that played once the movie finished. This scene was a sneak peek of Avatar 2, which is supposed to include Avatar societies that live in the water. 
I would recommend seeing this movie in 3D and in theaters to anyone excited about Avatar 2. Even if you have never watched Avatar, I would encourage you to go watch it if you have some spare time. I feel like people assume that the movie is too much fantasy or weird, but really, I think anyone could enjoy it.
About the Contributor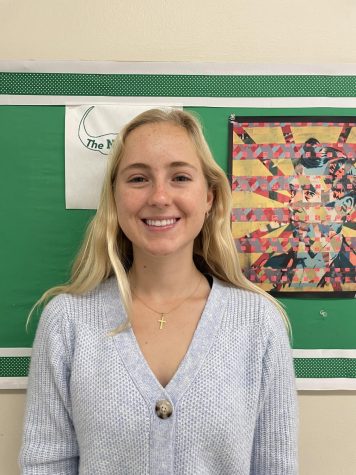 Maggie Smith, Editor-In-Chief
Maggie Smith is a senior and has been on the Navigator since her sophmore year! Maggie loves to run, watch movies, and study history :)