Restaurant Review: The Dragonfly Cafe
RESTAURANT REVIEW
The Dragonfly Café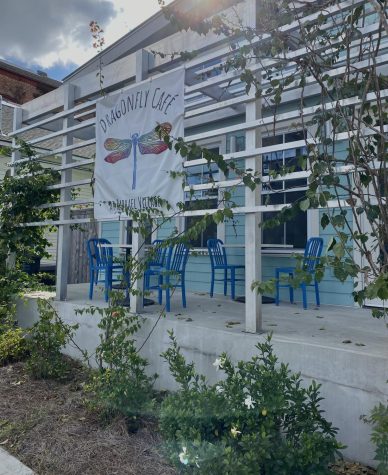 This series bases itself on reviewing restaurants around the greater New Orleans area, with a different guest reviewer each time. Stay tuned for recommendations on all kinds of foods and cuisines!
What was reviewed: Kyle's Grilled Cheese Sandwich and Rachael's Waffles
Rating: 9/10
The Dragonfly Café began in 2021 as a fundamental learning space for members of the Raphael Village Guild, which is a small community for people with disabilities. Located in the Lower Garden District, the Dragonfly Café is located directly next to the Guild. The Guild is used as a branch of the Raphael Institute to assist adults in order to engage in everyday jobs and tasks by doing things such as: working in the garden for the restaurant's produce, cooking and creating new ideas for the menu of the café, baking pastries, waiting tables and more.
 As one of the newly founded restaurants in the New Orleans community, the Dragonfly Café has a very quiet and peaceful atmosphere; which makes it a great place for studying and completing homework. The restaurant's menu consists of many different kinds of breakfast foods, sandwiches, salads and pastries. Additionally, each dish's portion size would be best for either breakfast, brunch or lunch. Most of the dishes fall in between $9-16. The menu also includes multiple kinds of coffee, teas, juices, and alcoholic beverages. This café should receive more recognition for its outstanding atmosphere, food, and overall experience. By supporting the Dragonfly Café, it helps support the entirety of the Raphael Institute which encourages and sustains day to day activities for local minorities.