Celebrating the Lunar New Year!
Lunar New Year is a traditional holiday widely celebrated around the world. The holiday follows the lunisolar calendar, which is based on the monthly cycles of the moon's phases. It is a fifteen-day holiday that starts on the second new moon after the winter solstice and ends at the full moon. In 2023, Lunar New Year started on January 22. 
Much like the zodiac signs, the Chinese/Vietnamese zodiac also has twelve animals: Rat, Ox/Water Buffalo, Tiger, Rabbit/Cat, Dragon, Snake, Horse, Goat, Monkey, Rooster, Dog, and Pig. Each new year is symbolized by each animal and every twelve years the cycle repeats.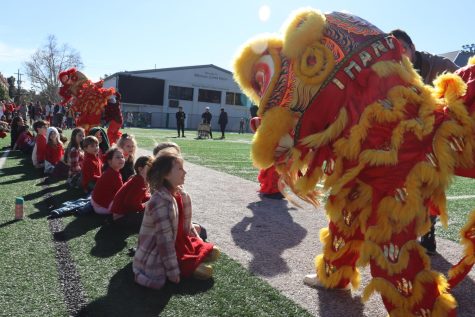 To celebrate the Year of the Rabbit/Cat, the Lunar New Year Committee hung up decorations all over the school. From posters in the Jolly Building to hanging red lanterns above the dining hall, these parents spent all week making Newman ready for Lunar New Year. They also prepared red envelopes (filled with chocolate coins) to give out to all the students and faculty. These red envelopes symbolize luck and good wishes, blessing the receiver with a prosperous new year.
In addition to the decorations, the school has a red and gold dress-down day, and got to watch a dragon dance! In the afternoon, the whole school went out to the football field to observe a stunning performance of a live dragon dance, performed by the Rising Dragon Lion Dance Team, before going back to their class to end the day.
Thank you to the Lunar New Year Committee and their director Chealsea Sun for giving us this opportunity to experience what Lunar New Year is like at school!