Conflict of the Clubs: The Major Battle Between Crochet For a Cause and Jewish Cultures Club
The Biggest Newman Conflict of the 21st Century
Today afterschool, every Newman student will face a dilemma.
"Do I go to Jewish Cultures Club or Crochet for a Cause?"
The Jewish Cultures Club, chartered by Frank Brickman '23, Will Zurik '23, and Owen Dodd '24, will compete for participants to plant trees for Tu Bishvat, while the Crochet for a Cause, chartered by Emma Passler '24, Giovani Arenas '24, and Jack Laurent '24, competes for their regular biweekly "epic" meeting.
The competition between the two clubs have been catastrophically intense. Friendships have shattered, violence has ensued. Will Zurik has released the public statement: "You have started a war you cannot win".
Crochet for a Cause has been confronted for their lack of a Cause. As Owen Dodd released in a formal interview statement towards Jack L, "Crochet for a cause? More like Crochet not for a cause…Y'all are [redacted] fake."
He addressed the public: "Would you rather play with yarn for nothing or help save the environment?" Similarly, Frank Brickman mentions that "people should attend the Jewish Cultures Club meeting today because it's important to help restore the Earth."
On the other hand, the Jewish Cultures Club has been confronted for their lack of entertaining emails. Crochet for a Cause's motto, "Stiches be Slippin'" has been a main feature of that debate. Gio Arenas has admitted he has actively "cringed irl" for the emails written by the Jewish Cultures Club. In contrast, the Crochet Club has released many thoroughly constructed emails, with features such as an anonymously written poem about their projects:
Yarn in my hands weaves,
Creating warmth with each stitch.
Peaceful moments knit.
-    Unknown
The arguments between club members have boiled down to a competition between the number of participants. In advertisements for each club meeting, both clubs have stressed how ANYONE is WELCOME.
In a final, desperate plea, Mr. Dodd has mentioned attending his club promises every Newman student the rare and once in a lifetime opportunity to see "Nick [Rezza] eat food that isn't from Whole Foods or Panera", a truly riveting and exciting event. Furthermore, the Jewish Cultures Club has also leaked the secret that king cake will be present at their meeting. The club also presented the press with a colorful and bold poster, but seeing as the poster was devoid of any words or captioning, the press has decided to not release it due to the ambiguity of it's purpose.
Meanwhile, the Crochet for a Cause Club has taken more intimate approaches, by asking near and dear friends if they would attend and crochet for the love of crocheting.
Of course, ultimately, it is for the public to decide. The council and the fate of the clubs can only be determined by the community of Isidore Newman School.
The lesson I ultimately want to release into the public is this:
It is the duty of the Newman citizens to decide. Come to clubs today.
Whatever club you decide to attend, do so with honor. You single handedly are doing your part – whether it be for a crochet-able cause or for the king cake.
About the Contributor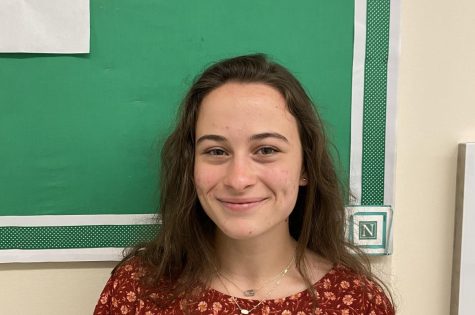 Isabelle Plaisance, Editor-In-Chief
Isabelle (Class of 2023) is a four-year veteran of the Navigator crew. She loves to write opinion pieces unprompted and also commonly sponsors the Varsity...