With a Click of a Camera: Capturing Emotion Through a Lens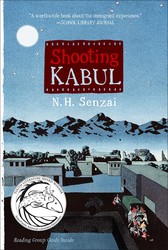 As part of the fifth-grade curriculum, every year the students read the novel Shooting Kabul by N. H. Senzai. This is a story about an Afghan family who must flee the country to escape from the Taliban. As the family is boarding a truck to cross the border into Pakistan, six-year-old Mariam slips away from her brother and doesn't make it onto the truck. She's been left behind in Afghanistan while the family escapes to the United States. When our main character, Fadi, begins school in the United States, he's given an opportunity to enter a photo contest. The grand prize is a trip to India. Fadi is now determined to win to try to find his sister and bring her home.
For the contest, Fadi's art/photography teacher tells the students that a great photo "evokes emotion," which is the mission the current 5th-grade students have tried to capture in their images.
Located on the second floor, in the 5th-grade hallway, these pictures are displayed for all to see and for the students to see their peers' pictures.
The students were judged in four categories: Movement, Abstract, Travel/Landscape, and Portrait. Each category has one winner and one honorable mention as well as an overall winner for the grand prize.
Here are the winners:
Movement: Barrett Wakeman (Honorable Mention: William Joyce)
Abstract: Phoebe Wells (Honorable Mention: Graham Lucas)
Travel/Landscape: Henry Frame (Honorable Mention: Coulter Sabathier)
Portrait: Lucy Magnus (Honorable Mention: Amelia Cho)
Grand Prize: Lucy Magnus
This project provided the students to see things from a different angle, making them look for inspiration throughout their life. As a former 5th-grader participating in the contest, I can say that this project made me realize just how many many amazing sights there are in my world. No matter if you traveled to another city or stayed at home, there were plenty of options for pictures that evoke emotion. All beautiful and unique in their own way, the pictures that were submitted all told a different story. Congratulations again to the winners, and thank you to the judges, teachers, Mr. Hibbert, Ms. Connolly, and Ms. Bomersback for everything they did to make this project come to life.