It's been an eventful week in Politics, y'all! The U.S. continues to prove to us that it can't, in fact, just have one normal week. Here's a look back at the biggest stories:
Trump overvalued assets
A New York State judge ruled on Tuesday that Donald Trump committed fraud by overvaluing several of his properties (WSJ). The report states that the inflated values could be 2.2 billion dollars higher than their actual worth. The ruling is a major help to New York attorney general Letitia James, who has sought to prove for over a year that Trump has committed fraud; that case goes to trial on Monday. Her desired penalty? Stripping Donald Trump of control of crucial assets, including the famous Trump Tower. 
Second Republican debate tonight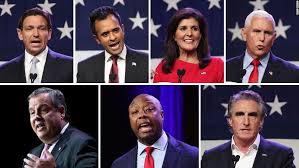 Tonight, 7 non-Trump presidential candidates descend on Simi Valley, California, for the second Republican primary debate (NYT). Like the last debate, Donald Trump chose not to attend, leaving the rest to struggle to fill the conspicuous power vacuum left behind. Some of them will struggle more than others. Breakout star Vivek Ramaswamy, who was accused of ripping off an old Obama speech at the last debate, will attempt to keep the spotlight. Florida governor Ron DeSantis, the original frontrunner of the race, will do everything in his power to take it back. Given the fact that his slogan is unofficially "Make America Florida", he'll probably fail. Don't let any debate antics fool you, though. Donald Trump, even in his absence, dominates the field. 
Government shutdown impending
America looks headed for its 4th government shutdown, what happens when the government runs out of the money needed to function, in the last decade (Reuters). While the government does technically have the money, infighting has prevented Congress from passing a budget. Currently, the House is trying to pass a stopgap measure to keep the government operating until November 17th, when a full budget can be hammered out, but members of the hard-right Freedom Caucus refuse to agree to the measure unless it funds a response to increased immigration. House Republicans have yet to announce an alternative bill, and no compromise is in sight with the deadline before a shutdown in 4 days. Many economists have expressed concern over the economic consequences of a government shutdown, but only time will tell.