On September 13th, 2023, the students of Isidore Newman School football, cheer, and sports medicine embarked upon a six-hour bus ride to Benton, Louisiana to play Benton High School for Benton's homecoming football game. To start the trip off on the right foot, there was originally a struggle to find seats for all the football players on their main bus, causing the sophomore players to relocate to the cheer, sports medicine, and freshman football player bus and thus force the students already seated on the bus to be moved around. However, once everyone managed to find seats, the trip went off without a hitch. The students and faculty involved were set to make two stops before arriving at Benton High School for a seven o'clock game. 
The first stop made was at a rest stop in the middle of nowhere Louisiana. Here the students split up and sat around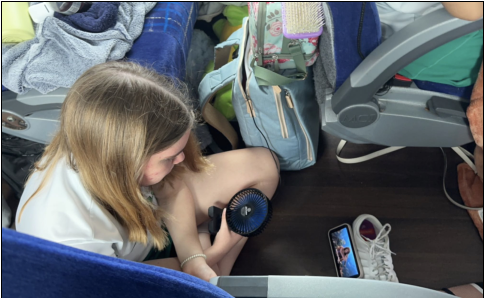 tables in a large grassy area to enjoy their lunch. Many people brought sandwiches, lunchables, and in some cases even sushi to enjoy for their lunch break. 
After they finished eating, they got back on the bus and drove until they reached their second stop. The second stop was at Northwestern State University — the alma mater of Newman cheer coach Gregory Spencer — where the football team got stretched and warmed up for the game. The cheer team followed Coach Spencer to explore his old stomping grounds, the theater department. Once the students were done looking around, they stopped at the Northwestern dining hall for an incredibly early dinner. 
When the students arrived at Benton High School, they got warmed up and ready for the game ahead.
The game was played well on the offensive side with Eli Friend scoring 2 touchdowns and Peter Loop and Anthony Jones both scoring one touchdown. One the defensive side Robert Kerrigan, William Darragh, and Felipe Suazo were picked as the top 3 defensive players collectively having 12 tackles between them. In the end, the Newman Greenies beat Benton High School 37-27.
The teams then changed out of their sweaty uniforms and into more comfortable clothes, then packed up and re-boarded the bus to return home. The buses arrived back outside the Touhy Gym bright and early at about 4:30 am. Before they disembarked the Hotard Bus, freshman cheerleader Kamryn Murdock commented, "The trip was fun, we got to sleep a little, I had fun during the game, but I was very ready to go towards the end." Sophomore sports medicine member Molly Day said the best part of the trip was, "Us winning," which I think we can all agree was the highlight of our nights.