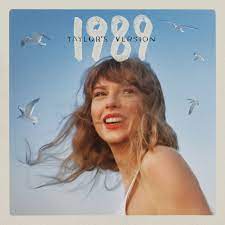 The original 1989 album was Taylor Swift's fifth album and the first "pop" album she ever wrote. Released on October 27, 2014, Swift's album was an immediate success! To support the album, Swift went on her 1989 World Tour, which was the tour of 2015. Atop the US Billboard Hot 100 were three of her singles: "Shake It Off", "Blank Space", and "Bad Blood". 1989 spent 11 weeks at the top of the Billboard 200 and was certified nine times platinum by the Recording Industry Association of America (RIAA). Over 10 million copies have sold worldwide and were certified multi-platinum in many countries. 
In 2019, after making six albums, Swift switched record labels in order to have the opportunity to own her work. Unfortunately, the rights to the albums she made for her original label were sold without giving her a chance to buy them back. Because of this, Taylor announced she would be rerecording her first six albums, calling them "Taylor's Versions." In 2021, the "Taylor's Versions" of her albums Fearless and Red were released, letting Taylor finally own some of her biggest hits like "Love Story" and "22," while also letting fans hear originally unreleased "From The Vault" songs like "Mr. Perfectly Fine" and "All Too Well (10 Minute Version)." In 2023, with the help of her Eras Tour, Taylor announced and released two new Taylor's Version albums: Speak Now and 1989.
General Thoughts:
Tripp: Overall, it's my least favorite Taylor's Version so far, but to be fair, I'm a bigger fan of Taylor's country and indie albums than her pop ones, so my opinion's a little biased. However, it's probably my favorite of her pop albums and I think it has some of the best and most memorable songs of her entire career. I also think she was able to recreate the songs really well because none of them stood out as significantly worse than the original recordings, whereas on Red and Speak Now, the production was a little off on some songs.
Vivian: I love this re-release! 1989 was one of the albums that had a huge influence on the music I listened to when I was really little. As I grew a bit older, I started to love the other songs on the album and not just the most popular ones ("Shake It Off", "Wildest Dreams", etc.). As her first "pop" album of her career, this album symbolizes a change and growth in Taylor Swift as a person. This is such a nostalgic album for me and I just love the way this album makes me feel. Although compared to Taylor's other albums this isn't the most "lyrically advanced", I love everything about this album. 
Biggest Improvement(s)/Changes From Original:
Tripp: For me, the two biggest improvements were on "Clean" and "Wonderland." "Clean" had already been one of my favorite songs from the album, so her more mature and powerful vocals helped elevate the song to bigger heights this time around. "Wonderland" was originally my least favorite song from the album, but her new vocals really made the song stand out and helped me enjoy it. (I felt the same way with "Superman" on Speak Now.)
Vivian: In my opinion, the re-release sounds relatively similar to the original album. Because I really enjoyed the original songs, I was scared that they would have a gigantic change. So I was pleasantly surprised when my favorite song ("You Are In Love") didn't sound remotely different. Most people found these changes to be disappointing but I was pleased that they weren't changed very much.
 Thoughts on Vault Songs (+ Favorite Vault Song):
Tripp: The vault songs were very different than I expected but in a good way. They ended up sounding more like songs from her Midnights album because of Jack Antonoff's production. I'm also a little sad that Aaron Dessner, the producer of Folklore and Evermore didn't make an appearance on these songs because I feel like he could've added unique elements to them. My two favorite vault songs are "Say Don't Go" and "Is It Over Now?" because I think they're more lyrically complex than a lot of the album, which I really appreciate.
Vivian: As Tripp mentioned, the vault songs sound very similar to the songs on Taylor's Midnights album which I love! I love the vault songs: their lyrics, rhythms, and general "flow" of the song itself. I love all of the vault songs, but some of my favorites are:
"Sl*t!" A song about a romantic relationship that Taylor is proud of and doesn't care about how the outside world views it. I love how–lyrically–this song is similar to Swift's song "gold rush" on her

folklore

album. With the lyrics "Everyone wants him, that was my crime. The wrong place at the right time. And I break down, then he's pullin' me in. In a world of boys, he's a gentleman." Swift uses these lyrics to describe this person whom everybody is in love with. Her chorus "But if I'm all dressed up, They might as well be lookin' at us, And if they call me a slut, You know it might be worth it for once, And if I'm gonna be drunk I might as well be drunk in love." shows her infatuation with this person, not caring what others think. 

"Say Don't Go" A song about someone falling out of love with you but you are desperately in love with them and beg them not to leave. The song takes up a fast tempo in the chorus, with the lyrics: "Why'd you have to lead me on? Why'd you have to twist the knife? Walk away and leave me bleedin', bleedin'? Why'd you whisper in the dark Just to leave me in the night? Now your silence has me screamin', screamin'." Showing the hurt and damage this person has caused them, Swift uses these lyrics to symbolize the rift between the couple's relationship. The song slows down at the bridge: "Why'd you have to, Make me want you? Why'd you have to, Give me nothin' back? Why'd you have to, Make me love you? I said, "I love you", You say nothin' back." This shows an inner monologue, the thought process of someone who gives them their all but receives nothing in return.