The 2023 Fall Semester play, "Romeo and Juliet", directed by Brian Spitzfaden has had three wonderful showings! Starring Onyx Kukuy and E Freyou, this modern adaptation of William Shakespeare's classic tragedy is an amazing show. With intricate sets and stunning costumes, this is one of the most colorful shows ever performed in the Henson Auditorium. Stage Manager Aria Jolly states, "It has been a wonderful experience. The cast and crew worked incredibly hard and it really showed! I'm so proud of all of them."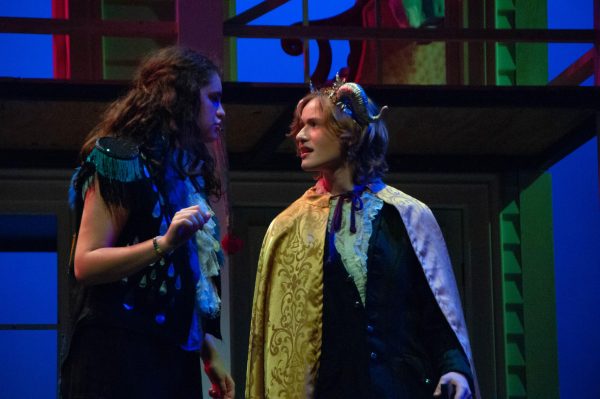 The lead "Romeo" is played by Onyx Kukuy '27. As a freshman, this is their first high school lead. Previously playing the infamous "Ms. Trunchbull" in the Middle School's 2023 musical Matilda Jr, this is not Kukuy's first appearance on stage. Onyx remarks, "I'm so insanely grateful for my cast and crew. I could not do this without them. The ability to star as Romeo in my freshman year is a blessing."
Many freshmen came to see the show; "Romeo and Juliet" was the first Upper School play she's seen at Newman, Wendy Sun '27 says, "Romeo and Juliet was wonderful! I really enjoyed the New Orleans twist that was put on. The set was also really cool so kudos to the tech crew! Great performance by everyone."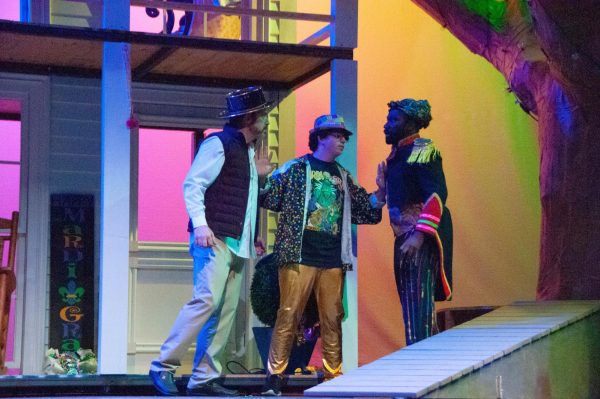 After taking some pictures backstage and seeing the show on opening night, Yhanie Bermudez '27 comments, "The play is really good. The actors' passion throughout is portrayed in how they play their characters. I also really enjoyed the New Orleans twist in it."The cheer team also came to see the play's opening night. Sophomore Georgia Biever remarks, "I thought the play was really good. I especially thought Romeo and Benvolio were amazingly portrayed." Sophomore Sara Lovell says, "I thought that the tech and crew did an amazing job with the lighting, costumes, and sets. It really enhanced the show and audience's experience."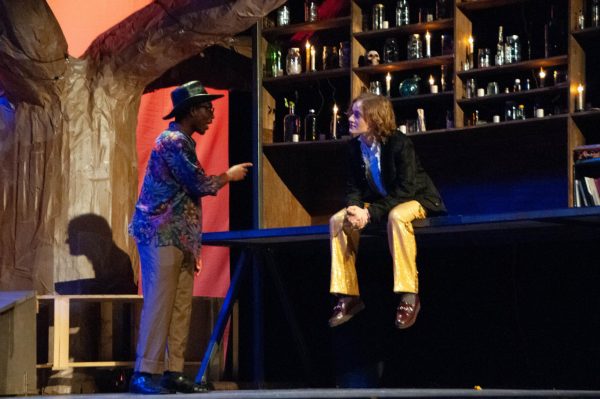 As a member of the tech crew, I have seen the amount of talent that is used to put on a show. Memorizing regular lines takes time and effort but memorizing Shakespearean lines? Half the time I am in awe by the words coming out of the actor's mouth, thinking, "How did they memorize two hours worth of lines?" As I was running around backstage, I would almost always come across Jarron Adams '24 going over his lines before his cue. The whole cast is incredibly talented; I often would catch myself stealing glances on stage during a scene, just admiring the show from the sidelines.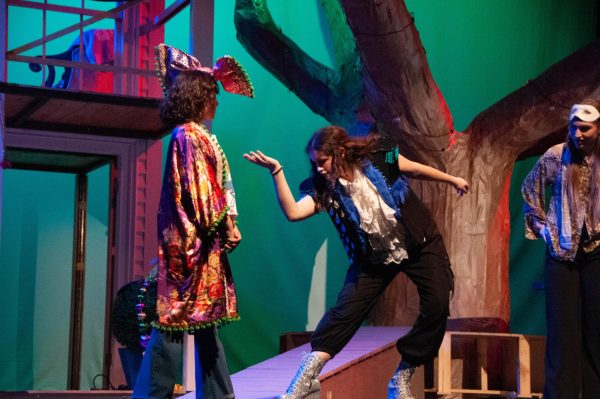 My favorite scene to watch was performed by Mercutio (Sara Ochoa '26), Benvolio (Evie Bigelow '26), and Romeo (Onyx Kukuy '27): as Romeo denies that he will dance at the Capulet's party, Mercutio begins to gently mock Romeo on the topic of love with a long speech about Queen Mab of the fairies, who visits people's dreams. The speech begins as a fantasy, but Mercutio almost becomes charmed by it, and a resentful and emotional tension creeps in. Sara Ochoa does such an exceptional job as Mercutio in this scene, from the small gestures she makes to the way she moves across the stage, she entrances the audience during her speech. 
And the set! There's a two-story, reversible, house on stage! There's a paper mache tree, with branches and lights hanging from it! Huge props (haha, get it, props) to Mr. Cramer and his tech theatre class for creating such an amazing set. 
This show was such an amazing experience and I really hope everyone came out and saw it. The cast and crew–as well as the directors–did a phenomenal job of bringing Shakespeare's play to life!
Previous Update: https://greenienews.com/6804/arts/behind-the-scenes/