Leading "Ladies"
Coming up next in your Newman Players theater season is "Leading Ladies," by Ken Ludwig. If you've ever seen "Some Like It Hot" or "Mrs. Doubtfire," then you have a pretty good idea of what this play is about. Two struggling actors, Leo Clark and Jack Gable, played by Charlie Smith and Jackson Gasperecz, find a newspaper advertisement published by Florence, a dying millionaire, played by yours truly, who is searching for her long lost relatives, Max and Steve. In their desperation, Leo and Jack decide to pose as Max and Steve to hopefully receive part of Florence's legacy. However, the two quickly realize that Max and Steve are not Florence's two nephews, but her nieces, Maxine and Stephanie.
As you can probably guess, chaos ensues. The play is filled with hilarious love triangles, slapstick jokes, and cross-dressing. Although Leo and Jack do pretend to be Maxine and Stephanie, this play isn't RuPaul's Drag Race. It is, however, equally as funny. I may be slightly biased, but this truly is going to be one of the funniest shows ever produced in the Henson Auditorium. It promises to be a fun-filled show complete with two English "men", two lovely ladies, "Doctor Death" and his son Butch, The Evangelical United Brethren Church of York, and a millionairess on her death bed. Lucky for you, readers, you'll get to see a teaser of the show, and then you'll have the opportunity to return and see the full performance October 20th, 21st, and 22nd. I promise you won't be sorry.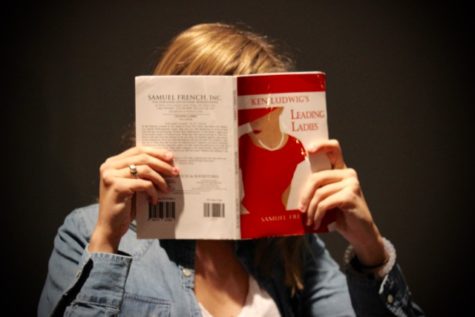 About the Writer
Anna November, Photography Editor
Anna November, the coolest gal you know, is a junior. Her favorite color is french blue and her favorite animal is the western highlands miniature cow....