iPhone 7 Review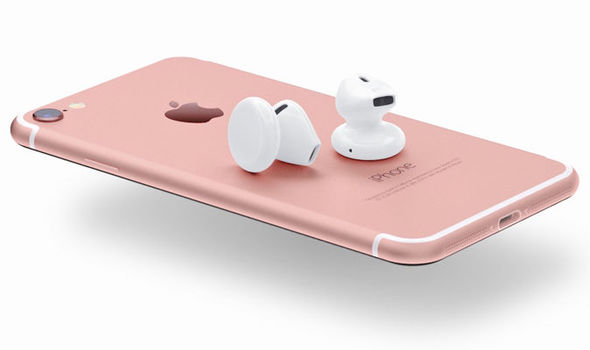 It's been 2 whole years Apple… where ya been?! It only took 3 phones, 2 tablets, and 1 watch for us to finally get to this moment. After 729 days of waiting for the iPhone 7, Apple has accomplished what seems to be the impossible, and released it. Yeah, you heard me correctly: Apple has released the iPhone 7. The iPhones 6 is a clear example of the common phrase, "Too much of a good thing is a bad thing;" in other words, it was a time for change. The new iPhone 7 includes a number of radical changes to its design and functionality such as removing the headphone jack, the new iOS 10, two cameras on the back, and much more. More importantly, the iPhone 7 is innovative and represents Apple's statement for the future.
As you all probably know, Apple has removed the headphone jack in the new iPhone – crazy, right! This bold move is Apple's attempt to make the phone waterproof, as well as provide space for the new dual camera. Don't worry, folks… you'll still be able to listen to your Spotify playlists, as Apple will be providing a lighting port headphone adapter. This will allow users to continue listening to Beyoncé, Drake, Justin Bieber etc. But for the super tech-savvy, Apple has also created futuristic bluetooth earbuds, EarPods. EarPods are wireless bluetooth earbuds that cost around $160 – good luck trying not to lose them. This move by Apple has introduced extreme public scrutiny, but instead of looking at the negative side, look at it in the sense that removing the headphone jack makes the phone more durable and allows for a better camera – a win win situation.
iOS 10 is the best, if not one of the best, updates in a while. iOS 10 allows different operations to flow nicely together and invites a much more ~trendy~ design overall. Right off the bat, the impact of iOS 10 can be seen at the home screen; Apple has gotten rid of slide-to-unlock and now the user can just press down on the Touch ID sensor, making it is so much faster and efficient. Now, with the touch of your fingertip, you have the home screen, control center, and the camera right in front of you. The real major change occurs in iMessage, as Apple has added a heap of new features to make it more interactive and fun; you can send stickers, GIF messages, handwritten messages, animated emojis, photo messages with doodles, and new effects, and that is just the beginning. Even though Apple has added lots of new aspects of iMessage, it becomes a problem because it takes away the simplicity of iMessage and can make it more difficult for some users.
Possibly the biggest improvement to the new iPhone is the camera and its overall stability. It may not be a major step forward from the iPhone 6s, but it is an improvement. I would say it is about equal playing field with the Galaxy 7 in terms of mobile photography. However, the major leap comes from the iPhone 7S as it now has 2 camera lenses – I know right, shut the front door! Through the new lenses you'll be able to encompass better lighting, greater overall stability, and a much more durable zoom.
The iPhone 7 is big step (in the right direction) for Apple in the smart phone market. While they may have made some radical changes from the iPhone 6, the positives most certainly outweigh the negatives. So what if we lost the headphone jack? It was holding us back from our future. We will all be able to better rock out to JBiebs and T-Swizzle with even more high-performance EarPods. In conjunction with iOS 10, the 7 becomes a powerful device that has a wide variety of awesome changes to make our lives more entertaining and productive. The new high quality camera allows Apple to rival Samsung in overall quality of photo. Most importantly, the new iPhone is a testament of what is to come from Apple in the near future, which is guaranteed to be spectacular and groundbreaking, nothing less than what we would expect from such an iconic company.
[Edited by Emmy Pilant]