From the Big Top to the Classroom: A Profile of New Orleans Jazz Drummer Ricky Sebastian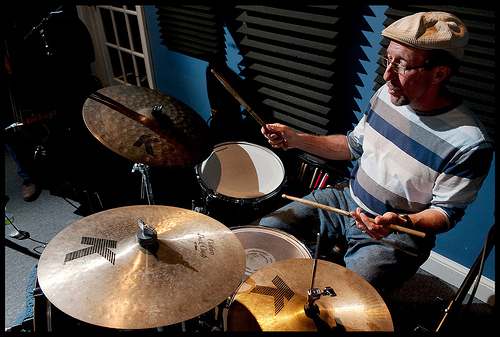 The bright sounds of swinging brass and bouncing wood against plastic and metal from a dimly lit bar on a Wednesday night make the black pavement look like the tarmac of an airport in an unnamed exotic country where a billionaire villain enters into frame in the second or third scene of a spy movie. One might picture the dark carpet of a Monaco Casino, or the bustling alleyway outside of a Tunisian Speakeasy, but in this case, it's the parking lot outside of the Sandbar at UNO, where Ricky Sebastian's world music ensemble plays jazz pieces from the four corners of the earth.
Through a floor-to-ceiling window, I see Mr. Sebastian, seated behind a humble kit, never losing his perfect beat, but turning his head away from the band for a moment to look back at me. As I follow the cadence to the open garage doors on the side of the building, where the temperature-regulated audience spills into the courtyard, I remember that my hair has been sprayed gray for the spring musical, and I prepare for looks of confusion. However, just as a billionaire villain uses an expensive spy gadget to hide in the plain sight of a crowd during the chaotic saxophone solo, moving up and down and in between the mixolydian  and dorian scales, the newfound color of my hair acts as a cloaking device to fit in with the audience. It is fair to assume that in reality, I am the youngest member in attendance, but, at least, from behind, I look like any other jazz enthusiast at The Sandbar on a Wednesday night as the saxophonist ends her solo. Ricky Sebastian's groove continues and the tuba takes a turn with rapid fire movement across the scales, employing methods taught by Sebastian himself, as the band is made up of his music students at UNO.
Sebastian, whose vibrant career is now focused on teaching, has a unique outlook on his craft.
"A lot of people teach in a certain field because they weren't successful in that field," says Sebastian, providing himself as a clear exception. As a drummer, he toured the world many times with various bands and played with many of his musical icons, such as double bassist Ron Carter, guitarist John Scofield, saxophonist Michael Brecker, and Jaco Pastorius, who has often been cited as the best bass player to ever live.
Sebastian always knew he wanted to be a musician after he started playing drums at age 5 growing up in Gonzalez.
"My parents were of Cajun descent so I heard a lot of Cajun music but also a lot of Soul and R&B. And being a white teenage boy in the south, of course a lot of rock," says Sebastian.
One night, Sebastian was in a rock band rehearsal with some of his high school friends when, in an instant, he became a professional musician. "We had a rehearsal one evening at one of the guys' house and his parents' friend, who was a trumpet player for the Emmet Kelley Circus, came over for dinner," said Sebastian. "He heard me play and asked me if I was interested in going on tour."
Sebastian accepted the offer and started his professional music career as a circus musician at the age of sixteen, often facing unexpected challenges.
"There was one act where they would set up barricades under a tent. We played a really fast song and a woman would come out with 20 dogs all different sizes and breed, running in circles. Then they would jump over the barricades. Every time they did, I had to crash, it didn't matter if it was in time or not." Hitting the crash cymbal repeatedly, even at an awkward time or off beat, made him a better musician, he says. It helped him learn to focus and keep the beat going, even when there were distractions or obstacles.
As Sebastian's days with the circus continued, he traveled to Mexico in his first time being out of the country, often performing in bull rings or behind beautiful horses trained to do tricks for audiences who didn't speak English. He noted the importance of this experience, as it was the first time he worked in a professional group, having a gig every night. This was only the beginning of a busy career which would reflect that of a shift from being the man on the flying trapeze to becoming the ringmaster. He refined his skills at the University of Southwestern Louisiana and Berklee College of Music, toured the world various times with different musicians of the highest caliber, and played all across the U.S., recording new music as well, but eventually returned to New Orleans and began teaching.
"As I started to get older, the idea of flying around the world to play concerts became less appealing. I decided to move my career to teaching. It had been something I had been doing for a long time and I enjoy it," says Sebastian, holding a reputation as one of the best jazz instructors in New Orleans. He is a published author on the subject of drumming and leads the percussion and world music ensembles at UNO in addition to teaching at the Jazz and Heritage school, a program taught by expert musicians from New Orleans and beyond for young musicians to develop skills in jazz, funk, gospel, blues, and other genres.
"He's a very caring and detail oriented teacher," says Noah Gardner, a student of Mr. Sebastian. "He is different from other teachers because of his way of talking to students like they are his peers. It makes you feel confident and focused."
Sebastian achieves this praise from students through his teaching style. His playing is characterized by its smoothness, and he has a way of making even the most simple of exercises sound slick. As he demonstrates the different types of paradiddles, drum double-tap exercises, to a student, he shows them ideas of how to incorporate it into a solo and make it sound professional. However, even as a musical expert, with seemingly everything mastered, Sebastian never shows any signs of arrogance or pretentiousness, and he genuinely cares about his students.
"I believe the human race is evolving in intelligence and it is reaffirmed every day with the level of intelligence of my students now versus 30 or 40 years ago," says Sebastian.
In 2018, Sebastian sees not only music, but society in general growing, especially with the development of new technology.
"It's changed the way I teach," he says. "Now I have the ability to use tools like audio tracks I record in my home studio to make ear training files for my students to listen to on their computers. Things you can practice along with. When I was a teenager, those tools did not exist."
Sebastian still holds true to his original methods of teaching, however. "The basics are the basics," he says.
Similarly, Sebastian has never changed in his love and appreciation of music.
"My favorite thing about being a musician is the fact that I've been able to do something I love for a living," says Sebastian. "There's a saying that goes, 'If you love what you do, you'll never work a day in your life.' I wish everyone could find something like that."
Not only does Sebastian love music, but he sees it as an important aspect of human nature. "I think that musicians are in a way psychologists because we give people a chance to come to a performance and for those two to three hours they completely forget all their problems or worries. That is great entertainment," says Sebastian with a kindhearted pause. "Music speaks to everyone. It's a universal language."