Tabor's Take: The Headchair
On a sunny Spring Break day in downtown Bay Saint Louis, Mississippi, ("A Place Apart," as described by the town's propaganda website, whose homepage is mostly bare, besides of course a faceless clipart construction worker next to a barricade with a sign that reads under construction), I found myself in a musty antique store. To you, dear reader, the words musty and antique probably sound redundant next to each other, as every antique store you've ever had the pleasure of visiting was likely musty, and this was indeed like any other antique store you will ever visit. The store was mostly stocked with typical antiques: utensils, clocks, plates, records, brown chairs, white chairs, off-white chairs, maybe even a yellow or green chair. Nothing seemed worthy enough to serve as a useless item which I would regret buying in the days to come. The back room, however, had a certain aura to it. The antiques in there weren't like the rest: most of them were scrap metal sculptures of various dog breeds, whose robotic expressions made them look horrified by their own existence. If they could speak, they would, in monotone unison, say "help us." The poor creatures in the clunky dog pound, however, did not benefit from the fact they were offensively overpriced, and it had probably been decades since the pieces of junk had last seen the light of day. I was determined to spend no more time in this existential nightmare, but as I turned towards the exit, I noticed something out of place. A small box sat on a shelf at eye-level. On the cover was a scantily-clad woman, her spray-tan seeping onto the floor on which she lay, everywhere except the head, which was suspended only inches above the ground by what looked like beach furniture for a special edition Barbie dollhouse. Above her, in a font which if no words were spelled would've read, "outdated," was the caption: HEADCHAIRTM – The heads up way to take it easy.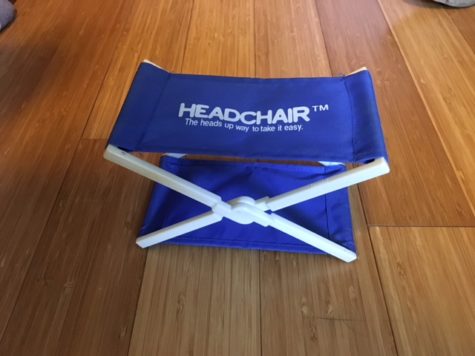 I never thought I would find something so wonderfully useless. It's no surprise that the Headchair only lasted a few years on the market in the 1980s. I must admit, it has spent most of its time on the shelf in my room. The few times I have attempted to use it in public, such as on the sidewalk next to a bench, or on the beach, I have garnered everything from confusion to laughter. Some try to avoid my gaze and cross the street in fear of the unknown, while others happily take pictures and cackle with each other.
Although it may attract unwanted attention, the Headchair really does everything it promises. When in use, the fabric headrest is surprisingly comfortable, and it serves as a perfect excuse to be on the ground. While the box claims it is "practically indestructible," the two plastic supports sometimes seem ready to snap under too much weight. However, considering its age, it is surprising it has lasted this long without any damage. It folds up to become excellently portable, and its small size and box make it a perfect item to keep on hand at all times. After all, the call to lay down on a nice solid floor may come when one least expects it. It is an expertly designed product: simple, yet pleasing to the eye, available in standard colors of blue and red. While it may be rare, $17 dollars for a chair for your head seems a tad overpriced.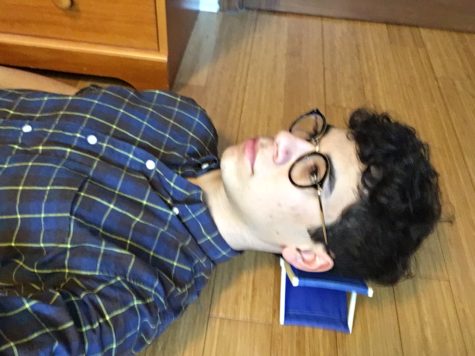 The Headchair is such a great idea, it's amazing no one ever thought of it before. Simple, lightweight, inexpensive, surprisingly comfortable and practically indestructible, the Headchair is perfect at the beach, in the park, at home, or anywhere else you're inclined to relax. So give it a try. You'll be a head above the rest.
Design: 7/10
Beautifully simple.
Durability: 8/10
It has certainly stood the test of time, after all, it is "practically indestructible."
Cost: 4/10
$17 for a Headchair.
Uniqueness: 10/10
$17 for a Headchair.
Packaging: 6/10
The cover practically screams 1980s. Since it was purchased at an antique store, the package was pretty beat-up.
Portability: 9/10
Nearly pocket-sized.
Practicality: 2/10
It's a chair for your head.
Reliability: 9/10
Does the trick every time.
Overall: 9/10
The world needs more Headchairs. Enough with this technology and innovation mumbo-jumbo. Let's go back to the times when you could buy something you didn't even know you needed.