Sewing Masks, Saving Lives
The heroic trend of SIY (sew-it-yourself) masks
The public use of masks continues to be a critical debate in the COVID crisis, with headlines ranging from 'wear them!' to 'they're useless!' Regardless of their effectiveness, it is extremely important that surgical masks and proper equipment get to medical staff. And to prevent shortages of this equipment in hospitals, it is encouraged for the public to avoid using them. Doctors around the world are in a frantic search for equipment.
However, people are finding ways to help out. Take the sewing community: in a time when masks are in high demand and low supply, there's clearly no other option than to make more masks yourself!
Many volunteers have sewed surgical masks and donated them to places they are needed, such as local hospitals or essential working businesses. These masks could also be made simply for when wary people have to leave home. It's a good way to take further health precautions without straining the supplies needed for medical staff – the perfect balance!
Zoe Plaisance's last project donated pouches to animal shelters amidst the chaos of Australia's fires. This weekend, she unpacked her sewing machine and equipment. After gathering scraps of supplies from near-empty stores, Zoe would have another donation project successfully delivered.
Companies and fabric stores have begun to broadcast this idea of making masks, even providing their own sets of materials for customers to take home. When they have made the masks, they can turn them back in to be donated.
There's one major twist in this fabric of heroic deeds: even supplies to make the masks are low. Fabric stores struggle to provide the entire set of necessary supplies for their marketed 'DIY mask kits'. But with enough searching and enough determination, volunteers find ways to get those masks where they are needed most, even if it means simply making do with the supplies available. Zoe was one of the many determined volunteers who decided to keep working with the parts she could find, trading the original design for an official alternative model she found online. Her finished product was a set of cotton masks. In no time, they'll be distributed to where they are needed.
Once again, the sewing community has come together to help fight disaster, one sewing machine at a time.
About the Contributor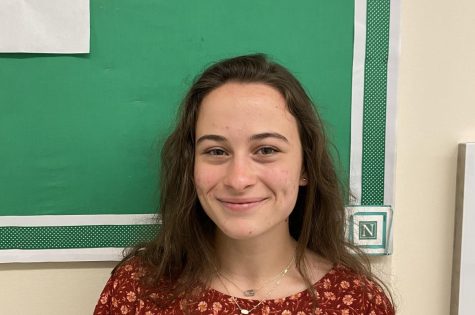 Isabelle Plaisance, Editor-in-Chief
Isabelle (Class of 2023) is a four-year veteran of the Navigator crew. She loves to write opinion pieces unprompted and also commonly sponsors the Varsity...