Regina Scully's "Mystery of Being" Art Gallery Exhibition
Regina Scully's solo exhibition, Mysteries of Being, is currently on display at Newman's Reynolds Ryan Gallery and will be until October 5th. She came to Newman on September 21st to speak about her work at reception. Onlookers came and strolled by to see the pieces, Sage provided beverages and snacks, and junior Xavier Drouin elegantly played classical piano pieces.
In a beautiful dress and with an inquisitive attitude, Ms. Scully walked around and talked to viewers. As they eagerly asked for the meanings of her works, Ms. Scully insisted she wanted the message to be up to the eye of the beholder. Leaving the meaning up for interpretation created room for conversations about the depth of the work and what the viewer was thinking – and that quickly became the dialogue of the evening, instantly engaging viewers to create new meanings as they discussed it among themselves. Ms. Scully actively participated in these conversations, and her passion for creativity became prevalent. One viewer commented about Ms. Scully: "She would always listen to what everyone thought [about interpretations] and sometimes it would be something she hadn't even seen before. I really like it. It kind of scratches your brain in the right spot to have conversations like that."
Her artwork, which is currently displayed in the art gallery, is abstract and colorful, seeming to depict wild movement. As her website's artist statement describes, "Scully is driven as a painter to explore and try to make sense of unknown worlds beyond our 3D reality–those we create on the edges of our mind, not yet incorporated into maps of our understanding. Time travel, astral travel, and the expansive vistas of our intuitive telepathic minds beckon to be looked into and seen. Scully believes the viewer plays a role in the completion of paintings by impressing naturally upon it, the creation of their own reality." This certainly rings true in the current exhibition.
Regina Scully's art reception showed the full extent of art – not only the act of individual creation and creativity but the conversations and interactions of creative minds. Art is a playing field, a discussion, a conversation starter.
Make sure to check out Regina Scully's exhibition, Mysteries of Being, and see for yourself what the pieces might mean!
About the Contributor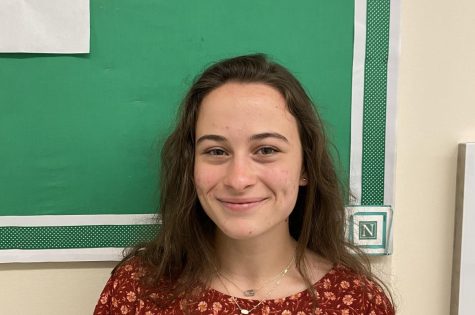 Isabelle Plaisance, Editor-in-Chief
Isabelle is a senior who joined the Navigator crew freshman year. She loves to write opinion pieces unprompted and also commonly sponsors the Varsity Swim...