Counter in Krohn Foyer Catastrophically Unlevel
As recently discovered using modern, cutting-edge technology, the counter in the foyer outside the Henson – a place popularly visited among students, faculty, guests, and families – is not as flat as we had all innocently assumed it was.
The foyer is a place of community. Of trust. The counter is often known as the hosting site for snacks and luxurious Sage appetizers as families and students convene and interact. It's known for being a place where receptions are held to commemorate and celebrate inspirational events such as graduation. It's the physical Newman embodiment and equivalent of those end credit scenes in old Western movies where the hero dramatically rides off into the horizon.
But, beware: the unassuming counter is actually not parallel to the horizon.
In fact, it's sinking.
The leveler tool displays the air bubble – which is supposed to be between the two lines and perfectly centered – is slightly leaning to the left.
"In New Orleans, that's about as level as anything is going to get," an educated adult commented, foolishly neglecting to see the urgency of the issue.
Further investigation proved that different sides of the counter have varying degrees of slanting. After a multitude of tests, only one segment of the counter was fully level. Therefore, extensive calculation concludes that statistically, as much as 90% of the counterspace in the foyer is off balance by at least .0001 *insert professional unit of the leveler air bubble here*.
So, next time you want to use the counterspace, be very cautious about putting open containers of liquids or even backpacks there.
More intense studies are underway to establish how level the rest of the building is. Additionally, the Navigator staff will reach out to credible adults such as Doc, Mr. Malis, Dr. Kern, and Mr. Kelly, to confirm calculations and statistical significance. These tests will start immediately – as soon as the faculty members in charge of cutting-edge technology tools accidentally leave the leveler out in the foyer again. To those individuals: thank you, sincerely, for your contribution to this crucial study. Your generous donations will not go unappreciated. Your efforts have opened the public eye to a groundbreaking discovery.
Informing the public of this issue is essential to preventing safety hazards such as backpacks rolling off of counters and pitchers of punch plummeting to the ground. Time is of the essence. Education is of importance.
Ultimately, be wary and beware. Don't let the tilt of the foyer throw you off balance.
About the Contributor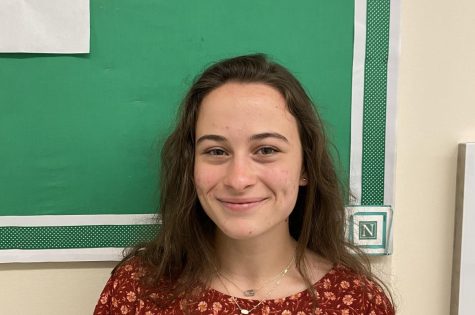 Isabelle Plaisance, Editor-In-Chief
Isabelle (Class of 2023) is a four-year veteran of the Navigator crew. She loves to write opinion pieces unprompted and also commonly sponsors the Varsity...