Lemon Rose Cookies for Summer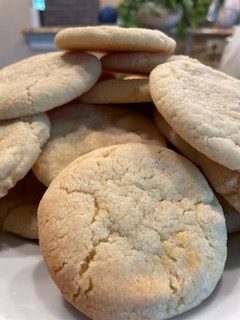 These cookies are quick and easy as well as absolutely delicious!
Baking Equipment: 
Parchment paper 
Baking pans (2 -3)
Medium bowl (for flour mixture)
Large bowl
Spatula/Fork (for mixing/scraping)
Measuring spoons
Measuring cups (1 cup, ½, ¼)
Ingredients: 
2¾ cups all-purpose flour
1 teaspoon baking soda
½ teaspoon baking powder
1 cup unsalted butter softened
1½ cups white sugar
1 egg
½ teaspoon vanilla extract
3 tablespoons rose water
2 tablespoons lemon zest
½ cup white chocolate chips
Topping:
2 tablespoons milk
Granulated sugar to taste
Yields: Depends on size of cookies
Prep Time: 1 hour – 1 hour 30 minutes
Cook Time: 10 – 12 minutes
Preheat oven to 375°F (190°C).
Combine flour, baking soda, and baking powder together in a medium bowl. 
Beat sugar and butter together in a large bowl with a fork until smooth. Beat in egg, vanilla, and rose water. Mix in lemon zest. Gradually blend in flour mixture. After the flour is incorporated, mix in the white chocolate chips. Scoop and roll dough into small balls of your preferred size and space apart on baking sheets lined with parchment paper.
Use your fingers to gently press the dough flat. Lightly brush the top of the dough with milk and sprinkle with desired amount of granulated sugar.
Bake in the preheated oven until the edges are golden, for 10-12 minutes.
Inspiration from: allrecipes.com/easy-sugar-cookies
Baker's Tips:
If desired, mix some crushed, dried rose petals and/or extra lemon zest into the granulated sugar before dusting the tops of the cookies for extra flavor. 
While the cookies are baking, cut the zested lemons in half and juice them. Mix half a glass of sweet tea (or unsweet tea with a sweetener) with a few tablespoons of lemon juice and a splash of rose water for a refreshing sip.
ENJOY!!!