5 Ingredient Nutella Brownie in a Mug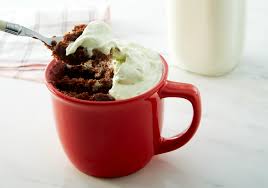 INGREDIENTS
¼ cup + 1 tablespoon Nutella
1 large egg, whisked
2 tablespoons all-purpose flour
Whip cream/ ice cream
Chocolate chips
INSTRUCTIONS
In a large MICROWAVABLE mug ( please check, this is important) add the Nutella and egg and mix together.
Add flour and mix until you have a smooth batter.
Add as many chocolate chips as you want to the batter.
Microwave for 45 seconds- 1 minute.
Let cool for a minute and then add either whip cream or your favorite flavor of ice cream (or both, I'm not judging).
ENJOY!