Remembering LSU's Mike VI
Mike VI passed away after a 4 month battle with a rare form of cancer, Louisiana State University announced on Tuesday. The 11 year old Tiger is the 6th live mascot in school history, and he was widely beloved as a symbol of LSU sports, and of the state as a whole. When he was diagnosed with spindle cell sarcoma 4 months ago, the righting was on the wall that his time was coming to an end, but it was believed that with an aggressive treatment plan he could live for 1 to 2 more years.  Mike received countless gifts and letters from across the SEC, and all of College Sports, notably from live mascots Bevo XV, of Texas, and from Arkansas' Tusk. Unfortunately, Mike's cancer spread faster than expected, and after being put into hospice care on Monday, he was humanely euthanized on Tuesday. Countless memorials have been planned to commemorate this tragic loss in the LSU community, with the most prominent memorial being outside of Mike's habitat itself. Fans have been placing letters and flower there ever sense his diagnosis, but they have increased dramatically since his passing. This only further expresses the love that LSU had for their mascot.
Much changed during Mike VI's tenure at LSU. He was the first tiger to choose not to attend the games in the cage (yes they are given a choice), and he was there during the massive renovation of his enclosure. Even with these noticeable improvements, shortly after his diagnosis groups like PETA (People for the Ethical Treatment of Animals) began calling for Mike VI to be LSU's last live mascot, claiming that large animals like him could never live a happy life in captivity. There  have been  numerous petitions for LSU to not search for another mascot after Mike VI.  Critics of these proposals to not replace Mike VI bring up the fact that animals born into captivity cannot live in the wild, and LSU only uses animals that were already born into captivity. With the full-time staff of one of the best veterinary schools in the country caring for him, and the fact that his enclosure is nicer than many zoos, critics argue that LSU is giving the best life possible to a tiger that is born into captivity. A potential compromise has been brought up, where LSU will purchase a tiger already living in Baton Rouge named Tony. Tony lives at a truck stop in small cage, and faces horrible conditions. Why PETA is focusing in Mike, and not Tony, I am not sure, but many people have brought up the idea of LSU rescuing Tony from his terrible conditions as a way of potentially appeasing PETA. Regardless, the consensus amongst LSU fans seems to be that Mike VI should, and will be replaced, but we will have to wait and see.
Regardless of if he is replaced or not, it is clear that Mike's presence will be missed throughout the SEC, and college football as a whole. As a man named John LaClaire commented on Facebook:
"LSU sighed the day Mike died, and stood there in silence with a tear in our eye.
The 12th man stood there and bowed his head, and prayed for safe journey of our beloved dead.
Rebels took a knee and the Bulldogs howled.. Knowing they would miss Ole Mikes growl.
Razorbacks stomped and shook there head when they heard the news that Ole Mike was dead.
The War Eagle flew and started to soar, and looked at LSU cause he could see Mike no more.
Big Al was tough, but silently cried. And there was a calm in that old Crimson Tide.
Time heals the heart, but love does it best. We will miss you forever….
Signed…… The Men and Women of the West…..
SEC. SEC. SEC" (Facebook, John LaClaire)
Every game I've been to, I've seen Mike. I remember seeing him on the field when I was young. I remember the game he decided not to come out onto the field (and I remember understanding why he wouldn't want to). I remember walking by his habitat, and seeing a majestic, but clearly fun loving animal, running around his enclosure playing with a ball, or swimming in the water. What I now know is that when I travel to LSU on Saturday to see the Tigers take on Southern Miss, I will for the first time not walk by Mike's enclosure and see him there, and that will be hard. Mike VI, you will be missed.
About the Contributor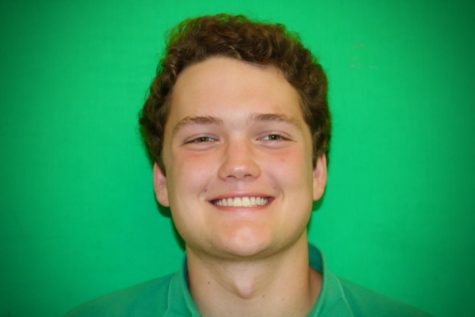 Wicker Perlis, Writer
Wicker Perlis is a 12th grader who writes articles for the sports section. His favorite color is green, he has a pet dog named Cody, he is an Aries, he's...