Newman is Out of Tune With Choir Students
Two weeks ago, Newman's 6th grade, Middle, and Upper School choirs were moved from the official choir room – soon to be an official construction site – and into a small room located in the Lower School that is known as the Reck Forum. Here to break down the pros and cons of the move is yours truly, Arts Correspondent Charlie S.
First, the pros:
Pro #1: We're not in a dangerous construction zone.
And now the cons…
Everyone who has taken choir knows that the choir room was a home for all of us. Even students who weren't in choir could be found there regularly hanging out, talking with their friends, or simply taking a nap. (I myself took naps on the couch during my freshman year; although I was late to Ms. Cooke's Geometry class, they were some of the best naps I have ever taken.) During their free time, students would come in to play the piano, do homework, and, of course, sing. It was a refuge for people who felt abandoned, and a place where everyone could find comfort. Alumni come back every year to visit the choir room, greet their old friends, and share stories of their college experiences. Personally, I could describe those rooms better than my own house. They formed a home, for me and for many others.
Oh, you doubt it? Well, in the main room there is a wall-and-a-half of hand-prints. Starting as early as 2000, every senior in choir has put their hand-print up there, with the addition of some feet. On another wall, there are fingerprints of the 8th graders who graduated from middle school while in choir. In a week, these will be gone – erased from the record because they stand in the way of progress.
This move doesn't just affect the choir; it affects the theater department as well. Due to construction, there will only be limited access to the costume closet. The bathrooms can no longer be used for costume changes, and we will never gather in the main room to warm up our voices on opening night for The Addams Family. The arts department is losing a valuable and beloved space.
So, is the loss of the choir room just part of progress? In the long run, yes. As previously stated, there will be a new science building AND a new arts building. And they will be wonderful, I'm sure. Currently, however, it is a step backward – Newman students are losing a home and refuge.
There are many unanswered questions about what will happen next. Still, the most beneficial course of action is to focus our energy on creating new spaces for students. After all, our voices may not be heard, but that doesn't mean we should stop singing.
About the Writer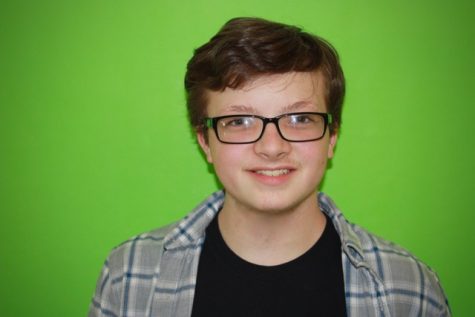 Charlie Smith, Writer
Charlie Smith is in the class of 2018. His favorite colors are red on Mondays, Tuesdays, and Wednesdays, and blue on Thursdays, Fridays, Saturdays, and...