Football Week 6 Recap: Newman vs. Country Day
On Friday afternoon, your Newman Greenies traveled to Metairie to face their rival, the Country Day Cajuns. With the support of one of the largest away fan sections at any Newman game in recent memory, the Greenies were able to come away with a 37-21 victory. Emotions were running high throughout the entire game, as last year's loss was still on all of the players' minds. Newman Head Coach Nelson Stewart told Will Peneguy of The Advocate after the game that "this is as motivated football team as I've had. They wanted this for the school, for themselves and really for the seniors." Coach Stew went on to say that "last year … we were at our lowest point on this field. In that situation, it either breaks you or builds you. That moment last year built us to what we were today."
From the beginning, it was clear that the Cajuns would try to implement some of the same gadgets and tricks that had brought them so much success a year before. Country Day attempted two onside kicks in the game, one of which they recovered, allowing them to tie the game up at 14 shortly after scoring their first touchdown of the game. They successfully ran a double reverse pass which caught the Greenie defense out of position and led to one of CD's few big plays of the game. Not all of their tricks worked as planned, however. Their second onside kick attempt was fallen on by Newman Senior James Poche, and a fake punt attempt was quickly stopped by Newman's defense before they were able to reach the first down marker.
The real story of this game was the turnovers that were forced at crucial times by the Newman defense. After a tipped pass by Junior QB Martin Butcher led to an interception, the Cajuns appeared to be driving down the field to even the score at 21. That all changed when Senior Will Reynoir intercepted Cajuns Sophomore QB Justin Ibieta's pass and put the ball back in Newman's hands. Butcher then led the Greenies down the field to score on a 9 yard run by Poche, putting the Greenies up by 2 TDs. The Cajuns were never able to recover from this momentum shift, not scoring again until late in the game when Sophomore QB Beau Adams was intercepted on the second-to-last play of the game.
Ultimately, a close first half led to Newman taking advantage of a tired and banged up Country Day team in the second half. They were quickly able to put the game out of reach, improving to 6-0 on the season. After the game, CD Coach Joe Chango said, "There's a reason they are 6-0… That is a good football team."
Senior Cy Winsberg ended the game as Newman's leading tackler with 6 tackles, 2 assists, and 1 sack. Reynoir ended the game with 1 interception, while Junior LB Liam Rowan ended with an interception and fumble recovery. On the offensive side of the ball, QB Martin Butcher finished 18/24 for 240 yards, 2 TD's, and 1 interception.
The Greenies will next face the 1-3 Riverside Rebels at home on Friday night at 7:00. The Rebels are coming off of 3 straight losses to Barbe, Rummel, and De La Salle. It should be a great game for the Greenies in their bid to stay undefeated, so be sure to come out to Michael Lupin Field on Friday night!
About the Contributor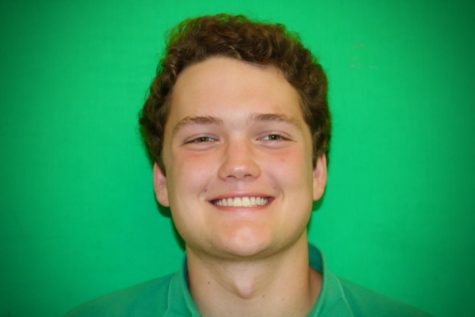 Wicker Perlis, Writer
Wicker Perlis is a 12th grader who writes articles for the sports section. His favorite color is green, he has a pet dog named Cody, he is an Aries, he's...