Welcome to the Swamp!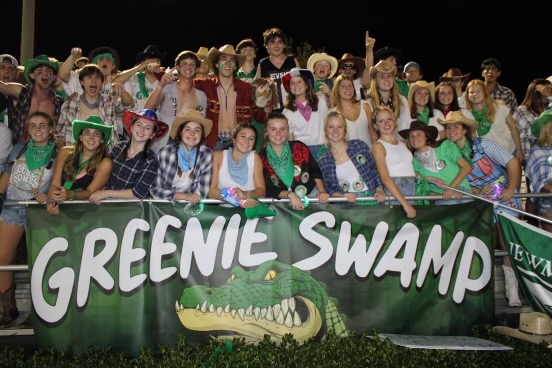 This year, there is a new sense of school spirit on campus that can be felt by all students and faculty. For starters, each football game is now themed, and students are encouraged to dress in the theme at school and at the game on Friday. Some of this year's themes have included USA, Pink Out, Green Out, All Stars, Boots and Ballers, neon, camo, and more. The themes have been a great addition to the football games because they create a greater sense of spirit among the student section, which is now dubbed "The Swamp." The students, who deck themselves out in the theme, bring high energy and spirit to each game and come ready to cheer on the team. The rowdiness of the student section helps the team play better and creates the ultimate experience for all fans. 
Additionally, there has been an increase in pep rallies this year that are designed to celebrate each team and create hype surrounding each big game. At the pep rallies, every team is recognized for their accomplishments, students participate in fun games and activities, and the cheerleaders perform and lead chants for the Upper School. These pep rallies are successful in creating spirit and getting students excited for the upcoming games.
Another contributing factor to the school's new sense of spirit is the instagram account @greenieswamp. This account, which is run by students, highlights each athletic event at Newman and features videos and pictures of fans in the student section supporting the various Upper School teams. At the beginning of each week, the account posts a graphic design that lists the theme for all games throughout the week. Make sure to give them a follow to keep up with athletics and all things spirit-related at Newman!