Raising of the Beam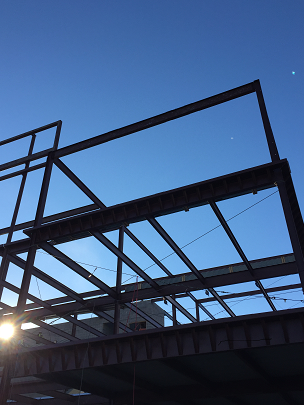 This past week Newman had students and faculty sign a beam that would be utilized as one of the support beams in the new science building. The beam a symbol for students to leave their mark on the school.
Students really enjoyed the ceremony. One said, "The raising of the beam ceremony was an inspirational moment for the entire Newman community. It was amazing to see a building block of the future of the school being erected with an indelible mark of everyone's name. I am confident that the new science building will provide an outstanding environment for future generations of students, and I value being a part of the process." The signing of the beam caused students commemorate and get excited about the new possibilities that come with a science building. It reminded them of the beautiful classrooms and new possibilities that will be coming to Newman next year.
Not only did the whole school sign the beam, but we gathered together during advisory on the football field to watch the construction crew raise the beam into place. Mr. Smith spoke about the unity and meaning behind signing our names. Years to come students will utilize the new science building and know that they are walking on the signatures of past students. We closed the ceremony by singing Happy Birthday to Mr. Smith, the head of school.