Coconut Macaroon Recipe
The Health and Wellness club had its first meeting on Wednesday, and as a founding member it fell to me to make the snack. Now this could not just be any snack. It has to be healthy, but not so healthy that it is made with obscure flours and sweet potatoes, and of course it has to be delicious. Enter these homemade macaroons. Not only do these bites of lightly sweetened coconut check every box on my list of requirements for a club snack, they are also ridiculously easy.
Note: The biggest mistake that one can make in baking these cookies is using shredded sweetened coconut instead of unsweetened. This recipe needs the maple syrup as a binder and the additional sweetness of the already sweetened coconut would make a cookie so sweet it would be borderline inedible.
INGREDIENTS:
3 egg whites
½ cup maple syrup
1 tsp vanilla extract
¼ tsp salt
3 tbsp. coconut flour
2 cups shredded unsweetened coconut flakes
(Optional chocolate drizzle)
4 tbsp. dark chocolate chips
2 tsp coconut oil
DIRECTIONS:
Preheat oven to 350 degrees. In a large mixing bowl whisk the three egg whites until frothy. Pour in maple syrup and vanilla, and whisk until combined. Add the coconut flour and salt, and whisk until the mixture is smooth with no clumps of coconut flour. Fold in the shredded coconut with a spatula ensuring that of the coconut is fully coated by the mixture. The dough should be able to hold its shape without crumbling. If the dough is still dry and crumbles easily add extra maple syrup by the tablespoon until the dough is workable. Roll the dough into 1 tbsp. size balls and place on a parchment lined cookie sheet ¾ an inch apart. Bake at 350 for 18-22 minutes until edges are golden brown and the inside has set.
Once cooled, melt together chocolate and coconut oil in a microwave for 20 second intervals or in a stovetop double boiler. Drizzle the chocolate mixture over the cookies and let set in the freezer for 1 hour.
These coconut cookies will last up to one month in the freezer or up to a week in the fridge. Enjoy!
About the Writer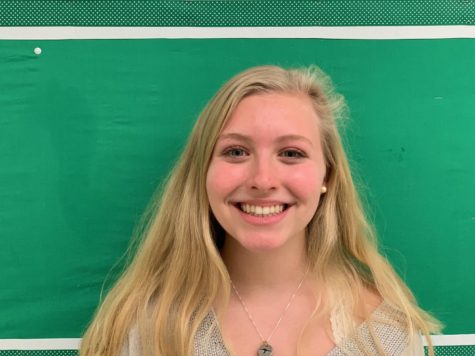 Serena Klebba, Editor-in-Chief
Serena is a senior who has written for the Navigator all four years of high school. Some of her favorite memories from her time working with the paper...