Apple Crisp Recipe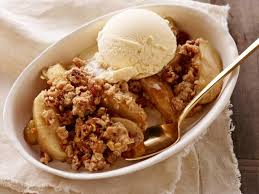 This is an apple crisp recipe that serves about 12. It is a perfect dish for fall weather!
10 cups all-purpose apples, peeled, cored, and sliced

Cosmic Apples – Sweet
Honey Crisp Apples – Sweet
Granny Smith Apples – Tart

 1 cup white sugar
1 tablespoon all-purpose flour
1 teaspoon ground cinnamon
½ cup water
1 cup quick-cooking oats
1 cup all-purpose flour
1 cup packed brown sugar
¼ teaspoon baking powder
¼ teaspoon baking soda
½ cup butter, melted
¼ teaspoon salt
Preheat oven to 350 degrees F (175 degrees C).
Peel, core, and slice apples to the desired size (I used ½ inch, but if you want softer apples, slice them thinner)
Place the sliced apples in a 9×13 inch pan. Mix the white sugar, 1 tablespoon flour, and ground cinnamon together in a separate bowl and sprinkle over apples. Pour water over the apples (I would recommend adding little to no water because it makes a sweet apple juice at the bottom of the pan and it's very liquidy)
Combine the oats, 1 cup flour, brown sugar, baking powder, baking soda, salt, and melted butter together in a bowl, and crumble with your hands or a fork. Crumble evenly over the apple mixture.
Bake at 350 degrees F (175 degrees C) for about 45 minutes.
Top with a scoop of ice cream and serve!