Recipe: Salmon Rice Bowl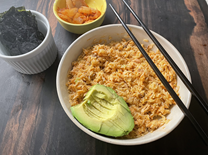 This new recipe has been taking the internet by storm. It all started when a popular TikTok creator named Emily Mariko shared this recipe. The recipe gained over 100 million views on TikTok and has inspired many other creators to share their own twists on the recipe. It is a meal that takes only a few minutes to make, but is very delicious.
Ingredients
One piece of leftover salmon
Microwavable (or fresh) rice
Ice cube
Sriracha
Mayonnaise
Soy Sauce
Small nori sheets
Avocado
Recipe
Put one piece of leftover salmon on a microwavable dish and mash it until it is the texture of canned tuna. Put the same amount of rice as salmon, place an ice cube on top of the rice, cover with a piece of parchment/wax paper, and microwave until desired temperature is reached. Remove the parchment paper and ice cube. Add desired amounts of mayonnaise, soy sauce, and sriracha on top and mix until combined. Eat with nori sheets and any additional toppings such as avocado, cucumber, and kimchi that you desire.
Overview
This is a very easy recipe for someone who has leftover salmon or just wants a quick, tasty meal. The recipe makes a very creamy, sushi-like meal for one. Many people also use a Japanese mayonnaise instead of regular mayonnaise and claim that it tastes better. Many were also confused by the function of the ice cube. The ice cube helps to make the rice's texture not become dry. The ice also does not melt because the water molecules are all locked together in a crystal structure by hydrogen bonds. These bonds do not allow the water molecules to rotate, so the ice does not absorb any heat from the microwave.