The Perfect Cocoa Fudge
As featured at the Cooking x Chemistry Club Crossover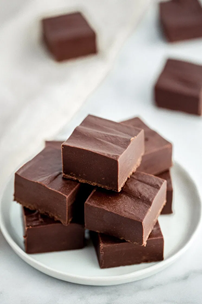 This is a recipe for the perfect chocolate fudge that melts in your mouth and tastes like no other! This is the fudge that was served at the Cooking Club X Chemistry Club Crossover, so if you weren't able to make it to the meeting, now you can make it on your own! Enjoy!!
Ingredients:
⅔ Cup of Cocoa (Hershey's Cocoa is the best)
3 Cups of Sugar
⅛ Teaspoon of Salt
1 ½ Cups of Milk
¼ Cup of Butter + Extra butter to grease your pan!
1 Teaspoon of Vanilla Extract
Side note: You will need a candy thermometer to get the perfect fudge.
Steps:
Coat 8x8x2 pan with butter and set it to the side.
Whisk together cocoa, sugar, and salt in a large pot.
Once whisked together, turn on the heat to high and gradually add in the milk. Bring to a bubbly boil on high heat.
Once boiling, turn heat down to medium heat and continue to cook (stirring occasionally) until the temperature reaches 236 degrees or a soft boil stage (this takes around 30-45 minutes).
At 236 degrees, take the pot off of the heat and let it cool until 110 degrees (this takes around 10-25 minutes).
Once cooled, quickly stir in vanilla and butter and beat until it losses its gloss. Make sure you do this fast enough where the fudge doesn't harden in the pot, but slow enough where it still losses its gloss.
Pour the fudge into the buttered pan. After letting the fudge cool for about 10-15 minutes, cut your pieces.
Let the fudge cool completely and serve. Enjoy!