Lemon Bars Recipe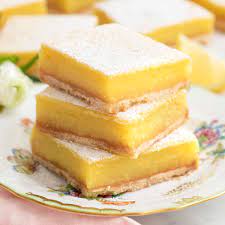 Enjoy this fresh recipe for the start of spring. These lemon bars are so flavorful and capture the perfect spring mood.
Crust:
2 cups + 2 tbsp all-purpose flour
1 cup powdered sugar
½ teaspoon salt
1 teaspoon vanilla
1 cup unsalted butter, melted
Filling:
2 ½ cups granulated sugar
½ cup all-purpose flour
7 large eggs
1 cup fresh lemon juice
4-5 lemons
Pinch of salt
Preheat the oven to 360 degrees F (175 degrees C) and line the bottom and sides of a 9×13 baking pan with parchment paper (I would recommend leaving an overhang on the paper for easy removal from the pan)
For the Crust:
Combine the flour, powdered sugar, and salt in a medium bowl
Add the melted butter and vanilla extract and stir to combine
Crumble and distribute over the bottom of the pan and press firmly and evenly
Bake for 15-20 minutes (Just until the edges turn light brown)
For the Filling:
Combine the sugar and flour. Add the eggs, lemon juice and salt and whisk together to combine. Don't over mix.
Pour the filling on top of the crust and bake for 18-22 minutes or until it is relatively set.
Remove from the oven and cool for 15-20 minutes on the counter, then refrigerate until cold and firm.
Remove bars from pan and dust with powdered sugar, then cut into squares. Bars are best when stored well covered, and they'll last for 5-6 days!