Cooking Club's Cinnamon Roll Waffles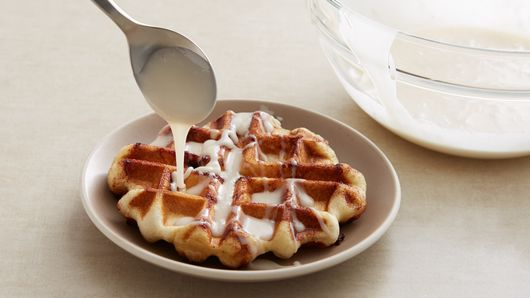 If you like waffles and you like cinnamon rolls, then you will LOVE Cooking Club's Cinnamon Roll Waffles! Enjoy!
Ingredients:
1 can of Pillsbury Grands Cinnamon Roll Waffles
1 cup of powdered sugar
3 tablespoons of milk
1 teaspoon of vanilla extract
Materials:
Waffle Makers
Cooking Spray
Steps:
Spray waffle maker with cooking spray, heat waffle maker, separate dough into 5 rolls, and set icing aside.
Place 1 roll in the center of the waffle maker and close lid. Bake 1-2 minutes or until waffle is thoroughly cooked and golden brown.
Meanwhile, in small bowl, stir together icing from cinnamon roll can, powdered sugar, milk, and vanilla until glaze is smooth.
Serve glaze over hot waffles and enjoy!