Student Opinions: New to Newman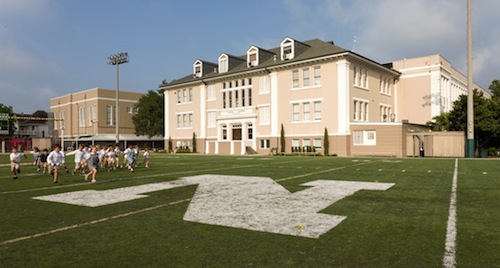 Big changes are always difficult to adjust to, but I asked a few students who are new to Newman this year to share their experience so far and, overwhelmingly, they are enjoying Newman! 
Many people focused on the community Newman has to offer, and the support and welcoming nature of everyone around them. Tripp, a freshman who moved to Newman from Trinity, remarks: "Even though I've only been to Newman for a little over a month, I already feel very welcomed by many classmates and teachers." Especially for freshmen, Newman does an excellent job acclimating students to the upper school and supporting them through any challenges they face. Freshmen are enrolled in Freshmen Flex, which sets aside time for students not only to meet with teachers and complete assignments, but also to participate in workshops. These workshops give freshmen tips on organization, study strategies, and other skills which will help them navigate the rigor of high school classes.  
Although the academic aspect of Newman is incredibly important to new students, many people are also excited about all of the extracurricular and curricular opportunities Newman offers. Amy Jones, a new Junior from New Harmony High, remarks on the abundance of these opportunities: "Newman definitely has more to offer in terms of extracurricular activities." These activities include theater, sports teams, dozens of clubs, the Speech and Debate team, opportunities in the visual arts, and many more. Sofia Clark, who is a new Freshman from Dominican, was amazed by the variety of activities Newman offers: "Newman has so many opportunities to get involved. There is something for everyone." All of these activities are there for students to be themselves and develop their individual interests which is incredibly important. 
The fact these new students already feel part of the Newman community is incredible to see and really displays Newman has so much more to offer than just excellent academics. It is amazing these new students are excited about these opportunities and personally, as a student with lots of school spirit, I love that these students were willing to share their love of the school and community with me!