Football Week 5 Preview
Your Newman Greeenies (3-0) are coming off of their bye week well rested and fully focused to take on the Vandebilt Catholic Terriers (3-1) this Friday. This will prove as a tremendous test for the Newman team as they will travel on the road for the first time this season to face the very talented Terriers in Houma.
When the two teams faced each other last year the Greenies came out on top with a final score of 35-7, however this year might prove to be a much closer contest. The Terriers have had a tremendous start to the season, having defeated the likes of Holly Cross (in their Jamboree), and St. Charles Catholic. Their only loss thus far came at a close 42-35 defeat at the hands of a strong Central Lafourche team. Sophomore QB Andrew Robison seems to be the star of Vandebilt's powerful offense. He has passed for over 800 yards and 8 touchdowns so far on the season.
The Greenies come off recent success as well. While last week was a bye, the week before was homecoming. With a wonderful crowd of former and past students on hand at the Manning Family Athletic Complex, the Greenies defeated the Pope John Paul Jaguars 42-14. Senior QB Myles Lapeyre had another great game with 142 passing yards, 32 rushing yards, and 4 touchdowns, 3 through the air and 1 on the ground. Those passing touchdowns were caught Junior WRs Dillion Hill and Storey Charbonnet, and Senior WR Chris Lane. On the ground Junior running back James Poche finished with 103 yards on 13 carries with 1 touchdown. On the defensive side of the ball, Senior LB Kobe Porche led the team with 4 tackles, 9 assists, and 3 tackles for loss. Senior DB Will Bryan also had an interception. On special teams, Junior DB/Kick Returner Sam Moses was able to return a kickoff 95 yards for a touchdown.
The Greenies will look to build off of their success on Friday as they face Vandebilt in the first game of their most difficult part of the season. Newman will look to shut down Robison's passing game early, and develop a quick lead on offense. They believe that if they are able to carry their momentum into this came they may be able to get up early, but no one denies that this will be the most difficult test of the season so far. Senior QB, and team captain Myles Lapeyre said "This is when the season really starts." He acknowledges that Vandebilt are a very strong team but ads, "We need a good performance and strong win here to have the momentum behind us as we go on to face Riverside and St. Charles." The game will begin at 7:00pm at Vandebilt Catholic in Houma, and it is their homecoming came so expect a large home crowd.
On the Junior Varsity side, the undefeated Newman JV team racked up another dominant win against Thomas Jefferson last Thursday. They will face their most difficult opponent of the season so far on Saturday as they take on the McMain Mustangs on Michael Lupin Field. They will be looking to continue their longtime winning streak which goes all the way back to the end of the 2014 season.
It is an exciting week for the entire Newman Football program so get on out and support your Greenies this weekend!
About the Writer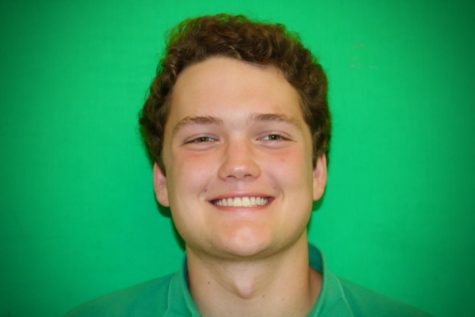 Wicker Perlis, Writer
Wicker Perlis is a 12th grader who writes articles for the sports section. His favorite color is green, he has a pet dog named Cody, he is an Aries, he's...