Newman's Voter Registration Drive
A week ahead of national Voter Registration Day, the Young Democrats and Young Republicans club co-hosted a Voter Registration Drive to help all Newman students 17 or older register to vote. Voting and registering can seem convoluted and difficult for inexperienced young people, so these student-led clubs took initiative to facilitate others' registration. The website the clubs provided made the process straightforward an easy; all each student needed was their ID number and Social Security Number. Still, only about 20 people registered to vote. Young Democrat leader Audrey Burkey remained optimistic and categorized the drive as a success because it publicized voting and "made the topic of voting more relevant to many people." Also, eligible students may have already been registered with the state of Louisiana, or they filled out the forms independent of the drive by using the online link.
Regardless of party, voting is crucial to our government and upholding the values of the United States. Young Republicans leader Edmund Philipson encouraged students to vote because "voting gives someone a voice . . . it is their civic duty . . . and I believe that if you are going to [benefit from] all the rights and liberties in the US, you need to vote." Not only will fostering excitement around democracy create a more engaged student body and population, students can seize the opportunity to vote as a coming-of-age ritual. Registering to vote is an important step in defining one's personal views and participating in the "real world" outside of being a high school student. The Young Republicans and Young Democrats hope students will exercise their rights, make their own choices, and enjoy the thrill of participating in civil discourse this November 6 for Midterm elections.
Former President Barack Obama also recently implored young people to vote in an address to students at the University of Illinois: "When there's a vacuum in our democracy, when we don't vote, when we take our basic rights and freedoms for granted, when we turn away and stop paying attention . . . other voices fill the void . . . you need to vote because our democracy depends on it."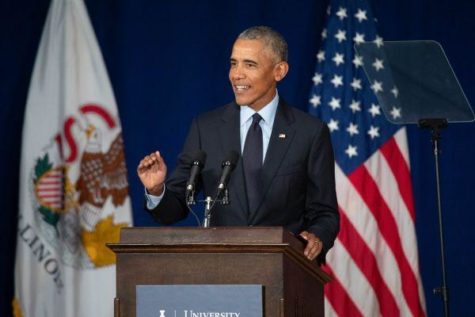 If you are 17 and haven't already registered to vote, you can do so here: https://www.sos.la.gov/ElectionsAndVoting/Pages/OnlineVoterRegistration.aspx
About the Contributor
Laine Nowak, Co-editor in Chief
"How do you write like you're running out of time? How do you write like tomorrow won't arrive? How do you write like you need it to survive?" -Hamilton,...