Freshman Taking on Pep-Week
This past week, the Upper School celebrated the traditional homecoming pep-week before the Newman vs. Country Day rival football game. Each day, students dressed up with in their grades wearing different outfits, costumes, or colors. While everyone else was enjoying the fun, the freshmen had some difficulty.
Since pep week was supposed to be so early this year, Freshmen PEP representatives had not been elected yet. The Class of 2022 was left on their own to plan their hallway! Moreover, the other grades' Pep representatives chose the themes for the freshmen – and made it extra difficult. Freshmen were assigned Valentine's Day as their holiday, orange for their color, and Neon Party for their hallway theme.
The 9th Grade successfully handled the Valentine's Day theme; everyone found some pink or red. Shawn Sutherland even dressed up as Cupid.
But for colors, orange? Really? There are so many other colors in the rainbow! This imposed choice proved difficult and absurd. Students improvised the best they could by  tapping pieces of origami bird paper to their shirts (Luke Estrada).
Then the "Neon Party," which is, in a sense, its own shade of color. It's was a mystery how the freshmen were supposed to decorate well, not that the freshmen ever have any idea how to decorate. In the end, they did a good job, and the decorations lasted almost to lunch time.
On Friday, every grade choreographed class dances. The other grades enlisted about twelve or more people, and the freshmen found three volunteers. One could say they did a fantastic job, but maybe more participants and more planning would have improved it.
Even with these difficult assignments, everyone still had a good time.
It is a tradition of sorts for freshmen to struggle every year as they undertake spirit week while the juniors and seniors plan excruciating details so they will win. But the freshmen are ready to improve next year. Even with their difficult assignments, they still had a fun time.
We all wish the rising freshmen good luck for next year! Especially since we're planning their themes to be Columbus Day as a holiday, brown as a color, and Newman as the hallway theme. Have fun!
About the Contributor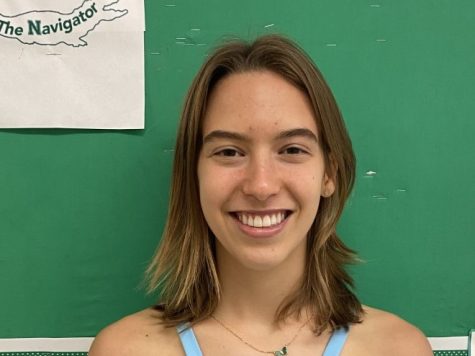 Allison Nowak, Editor-in-Chief
Allison is a senior who has written for the Navigator since her freshman year. When not writing for the Navigator, she can be seen playing soccer for both...