Newman Band Trip to LOOP
The Newman's band field trip to the LOOP NOLA Project.
This past Tuesday, the Newman band went on the far side of City Park to participate in the LOOP NOLA Project. This wasn't to play our instruments, but to get outside the assigned seats of the band room and bond as a team.
Just like in a sports team or a class, band members need to know and trust each other. Although we each are responsible for our own instrument's sound, it doesn't end up great overall unless the entire band is balanced, in tune, and synced in dynamics and tempo. And even beyond that, a team needs to know and support each other. Before the field trip, many students hadn't even seen the faces of the new kids in the back rows.
Last year, the band was 97 members. Due to the departure of many seniors and other students who couldn't fit band in their schedule, our band now consists of 40 members – two being the directors, and only five being girls (and majority of the remainder being football players). But our small number has advantages: our sound as a concert band is easier to maintain and the instrumentation is balanced, and the group can potentially become closer. So, Ms. Izaguirre and Mr. Dufour pushed for a field trip. We got to hear each other's voices instead of instruments as we worked as a team to get through the activities at LOOP NOLA.
A goal established by the LOOP NOLA Project is to "create more team cohesion and get to see a different side of fellow colleagues." By the time we came back to school at Middle School lunch, that goal was achieved.
The Newman band was split into three groups. Some games included getting through a spider web together, holding hands and balancing on a tightrope a foot off the ground, trust falls, rock-paper-scissors-shoot-I-lost-but-i'll-support-my-team, heated rounds of beanbag tic-tac-toe, and balancing on a see-saw raft long enough to sing "Row, Row, Row Your Boat" (as fast as you can manage). In more than one activity, our group built bridges – both physically and metaphorically, through connecting as a group.
These activities also gave the opportunity for underclassmen to really meet the seniors and held the seniors responsible for being role models. All of them – Brandon Williams, William Picou, Charlie November, Wade Politz, Jacob Pettiford, Christian King, and Lambert Boissiere – took their places as leaders and guided the 3 rotations through each activity.
Underclassmen also made major contributions; they brought many creative ideas to the table that the leaders alone could not have thought of. In one group, Brix Brewster and his peers offered up the idea of making one long chain of people to bend the rules and win the game easily. Lambert, unsure if it would work and convinced that their original idea was fine, had to make the tough decision of a leader and finally decide to give it a try. Overall, we all practiced great teamwork skills and each member of the Newman band paved the way. Good job, Greenies!
About the Contributor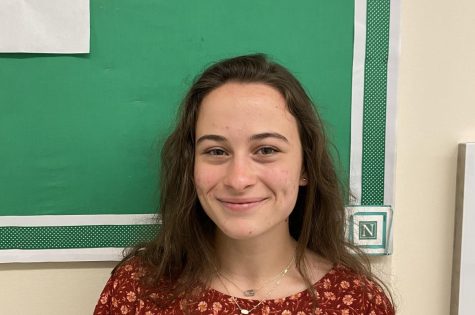 Isabelle Plaisance, Editor-in-Chief
Isabelle (Class of 2023) is a four-year veteran of the Navigator crew. She loves to write opinion pieces unprompted and also commonly sponsors the Varsity...