A Trip to Universal
As Newman unveils the new Bollinger Performing Arts Building, it has led me to reflect on my time in choir during my Upper School career here at Newman. From winter caroling at the Windsor to semester concerts, one of my favorite experiences was the Universal Trip to compete in Music in the Parks. 
It had been years since both band or choir had been on their respective trips. In 2020, our Tampa competition had been canceled due to COVID. Voices and instruments were set at rest while students studied music theory to still get somewhat of a normal performing arts education. But patience is a virtue, and soon came a reveal of a trip to Universal Studios with a small twist. It would be the first time since Katrina that the band and choir went on a trip together. 
After an evening choir concert, students headed back home, giddy with excitement at the prospect of spending a weekend at one of Orlando's finest theme parks. With an early morning departure, Upper School Band, Upper School Choir, and Middle School Choir hit the road. Along the way, we stopped at gas stations that gave off a very Southern vibe do I dare say… with their confederate flags and don't tread on me stickers. Other fine dining establishments on the road included Taco Bell, Pizza Hut, Popeyes, and Golden Corral. The whole caravan finally made it to the hotel late that night with an expectation to compete the next day. 
After being part of a choir for so long, standing in front of the Newman community to sing alongside my friends and peers, it felt weird that I was nervous. We headed over to compete. Band went up first, and the choir kids cheered on. Later that day we would find out that they placed 1st in Orchestra Ensemble. Up next was middle school choir as the Upper School Performing Arts students listened to their performance. They also came out victorious winning 1st Place for Middle School Mixed Choir. Upper School performed last. The performance ended with a rendition of "The Lord Bless You and Keep You" that was performed alongside the middle schoolers. Taking home two trophies, the Upper School Choir placed 1st in Mixed High School Choir as well as Overall High School Choir. 
After a long morning of performances, the band and choir piled back on the buses headed to Universal, ready for a weekend of amusement park fun. 
  One of my favorite all time experiences was the Velocicoaster. Despite the two hour line, we waited in the hot Florida sun, fully willing to standby no matter what. During our wait, we played Heads Up!, took 0.5x selfies, and entertained each other. Looking back, the time we waited in line was well worth it even if the ride did not pan out. The time spent in line allowed us to bond, meet new people, and celebrate strangers' birthdays. But Velocicoaster did pan out and was my favorite roller coaster of all time. As one gets closer to the loading dock, animatronic raptors thrash in their cages. The roller coaster delivers on the promise of the sensation of running alongside raptors. With break-neck spreads and inversions, the Velocicoaster secures its spot as the craziest and most thrilling new ride. My personal favorite part was the "Monstoaurus roll", where riders are suspended upside down as they travel over water. The ride was well worth the wait, and even the money I paid to see Gio scared in the ride photo was worth it. 
Overall, the trip to Universal was one of my favorite school trips. Riding the Hulk, exploring Jurassic World, casting spells in the Wizarding World allowed me to branch out, take risks, make new friends, and create memories that I will look back on fondly as my time at Newman comes to an end.
About the Contributor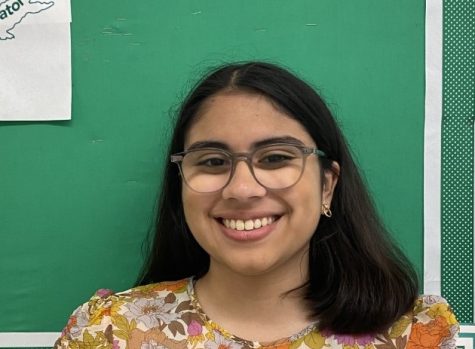 Colette Bu, Writer
Colette Bu is member of the Class of 2023 who has attended Newman since 7th grade. Some of her favorite subjects include History and English. Outside of...