iPhone X: Fantastic, But Not the Future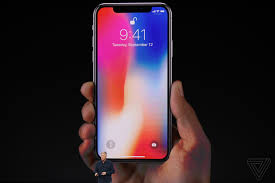 The new iPhone X is a completely redesigned and re-engineered iPhone that should awe everyone with its revolutionary capabilities. With the iPhone X, users are going to be able to use their face instead of their hands to unlock the device. Additionally, a redesigned camera, new screen, longer battery life, and wireless charging should make this iteration 10x better than any previous iPhone.
The camera that comes with the iPhone X is new and improved. The most notable feature is that the front-facing camera is flipped vertically, rather than horizontally, signifying that Apple wants its users to use landscape mode. However, they have also released a new portrait mode feature which can take amazing photos in low light. Using dual lenses, Apple is allowing people greater versatility in how the iPhone X's camera can be used.
Apple has also unveiled a new feature for developers called ARKit. It allows developers create much more advanced augmented reality (AR) apps. You might be asking yourself, what is AR? Well, AR is the process by which an image is superimposed onto the user's view of the real world (think Pokémon Go).
The screen is the best feature of the new iPhone. Its new sleek and fluid design makes it one the most visually appealing smartphones on the market today. One key feature of the design is the elimination of the home button. Because of this deletion, Apple is able to utilize an OLED screen. Now, the iPhone's screen is the length of the phone. This new screen is where the magic happens for Face ID. Face ID is a new biometric feature to make accessing your phone easier and safer.
Another feature that utilizes the sensors on the iPhone X is the ability to create personalized emojis that follow your voice and the movement of your face. Under the hood, the entire phone is run using the new A11 Bionic chip which facilitates these great capabilities. Also, the chip increases battery life by an extra four hours and allows the phone to have wireless charging.
At their unveiling Apple claimed to be establishing the future of smartphones with their iPhone X, in much as they did with the reveal of the iPhone 3GS. However, the smartphone market is too competitive and established for the iPhone X to have the same effect as the first iPhone. In order for Apple to have a phone as revolutionary as the original iPhone, they are going to need an idea 10 years ahead of its time. The iPhone X is revolutionary for Apple and sets higher expectations for iPhones, but it does not establish a future for the smartphone market as a whole.