State Championship Swim Meet
Last week the swim team won both the boys' and girls' state titles for the third consecutive year.
The girls were especially happy to win, considering that their predicted margin for victory was very slim and some high scoring swimmers were not in peak condition. Freshman Katherine Kramer was the high scorer for the girls, coming in third for her 100-yard backstroke. This season the girls' team showed incredible depth, which was proven by the fact that they did not have a single first-place finish yet still won the meet.
The boys' team had a fantastic state meet as well, winning by over 200 points. The boys had many swimmers in the top three, with first-place finishes by  Connor Page in the 100-yard backstroke, and Pierce Thionville in the 500-yard freestyle. The boys also placed first in the 200-medley and 400-free relays.
This was the end to an extremely successful season for both teams. Many swimmers improved dramatically over the course of the season. Out of the pool, the swim team grew even closer this year with numerous team dinners and lunches throughout the summer and the swim season. As the season comes to a close, the team would like to thank all of their coaches, especially Coach Nick who drove five hours to see the team compete in state finals, and of course all of their classmates who showed up to meets. Congratulations to the Newman swim team on a fantastic season!
Edited by Izzy Lane
Click on the gallery below to see some pictures from the meet.
About the Contributor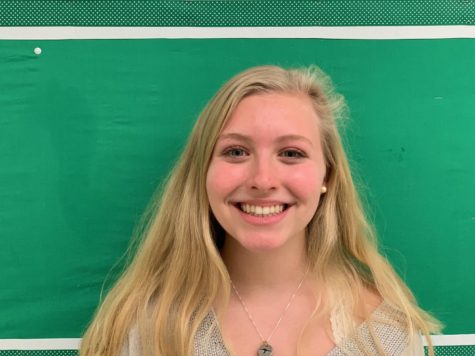 Serena Klebba, Editor-in-Chief
Serena is a senior who has written for the Navigator all four years of high school. Some of her favorite memories from her time working with the paper...